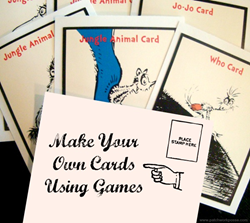 Recycle boardgames to create cards.
Dallas, Texas (PRWEB) March 08, 2014
Do not throw out old board games. Awesome DIY cards out of board games and delicious pink pancakes have been published on Kids Activities Blog. Have fun recycling old board games to make fun cards.
Homemade cards are easy to make. This project is great for board games that have pieces missing or card games where there are cards missing. Materials needed are scissors, a hole punch, pieces of the game, ribbons, card stock, and modge podge.
Cut a white backing paper the same size or a little larger than the card. Put modge podge on the back of the game card and glue it to the cut paper. Let it dry and mark it on one side of the postcard. Hole punch at the top and tie a curling ribbon on it. Ready is the awesome easy to do card. Best of all, it saves a lot of money.
The pink pancakes taste like strawberry shortcake. They are a perfect treat on Barbie's birthday because they are in a delightful shade of pink. Making the special pancakes is easy. Ingredients are strawberries, pancake mix, oil, buttermilk, strawberry syrup, and an egg.
Mix the ingredients according to the instructions provided on Kids Activities Blog. If the batter is too thin, then add a little more pancake mix. If the batter is too thick, then add some of the reserved buttermilk mixture or strawberry syrup.
Stack the pancakes and top them with strawberries or a simple glaze. Add pink sprinkles if desired. Invite Barbie and friends for a breakfast treat.
For detailed instructions and to get additional fun ideas, check out Kids Activities Blog this week. Come get inspired to celebrate with DIY cards and pink pancakes this week.
About Kids Activities Blog
Kids Activities Blog is a website created by two moms (who collectively have 9 children), Rachel Miller and Holly Homer from June Cleaver Nirvana. It is their daily goal to inspire parents and teachers to play with kids. This interactive website publishes simple things to do with kids twice a day. Kids Activities Blog is a great tool for moms and teachers to find kid-friendly activities that create memories and sneak learning into the fun.