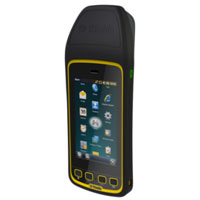 The rugged design of this handheld computer is an ideal solution for reading RFID in outdoor and extreme situations.
Chandler, AZ (PRWEB) March 11, 2014
Group Mobile, well known for carrying the top brands in rugged laptops, rugged tablet PCs, rugged SmartPhones, and rugged handheld computers is offering Trimble's Juno T41 with new ultra high-frequency RFID (Radio Frequency Identification). The RFID capability can be combined with Enhanced GPS and/or SmartPhone connectivity so customers can choose a particular handheld model that meets their needs. Pricing on the new RFID models starts at only $2,199.
The UHF (ultra high frequency) RFID is an increasingly commonplace technology using the 860 to 960 MHz frequency range to guarantee unique identification of an asset. The Trimble Juno T41 R will automatically recognize tags across a variety of frequencies and accommodates any size or style of RFID tag that is outlined for customized solutions.
The Juno T41 "R" models use two different antenna ranges to read or recognize the distinct identification of an asset anywhere in the world and uses the latest EPCglobal Gen 2 RFID protocol.

FCC Certified (North America): 902-928 MHz bands
ETSI Certified (EU): 865.6-867.6 MHz bands
ACMA Certified (AU/NZ): 920-926 MHz bands
The Trimble Juno T41 RFID rugged handheld computers feature a 1GHz processor and 512MB RAM along with 32GB onboard storage with either Android 4.1 or Microsoft WEHH 6.5 operating systems all within a slim, ergonomic design. Other standard features include an 8MP integrated camera, multi-touch capacitive 4.3-inch sunlight-readable display, all-day battery life, and 2-4 meter GPS accuracy capability with an option for 1-2 meter GPS.
The Juno T41 with RFID features rapid-read, high-accuracy performance on multiple tags with multiple orientations, even in crowded conditions. In addition, the Juno T41 RFID rugged handheld has a consistent read-range over 3.5 meters for 5cm2 (2″) UHF tags in unobstructed space, configurable performance settings and use-case parameters in the pre-loaded Trimble SearchLight application, along with a Software Development Kit to customize all settings including read-range, power-consumption and other features.
"Often the RFID tag is specifically used because the item being tracked is in difficult or harsh environments where a barcode won't survive. The rugged design of this handheld computer is an ideal solution for reading RFID in outdoor and extreme situations," said Jim Sheldon, general manager of Trimble's Mobile Computing Solutions Division.
"Adding Ultra-High Frequency RFID capability to the already versatile Juno T41 is going to make this handheld even more popular among our customers," said Group Mobile Executive Vice President, Stephanie Kreitner. "Workers in fields like warehouse management, retail inventory management, anti-counterfeiting, asset tracking, and infrastructure management can definitely reap the benefits of longer read ranges and lower cost of tags that UHF RFID offers compared to other RFID technologies."
The Juno T41 "R" models are also built to meet military-grade standards of ruggedness for drops, temperature, altitude, humidity extremes, vibration, chemical exposure and shock with either an IP65 or IP68 rating for water and dust.
To learn more and order the Trimble Juno T41 R rugged handheld computer, visit http://www.groupmobile.com/product.asp/sku=6156/dept_id=/mf_id=65, or call toll free 866-784-4338.
About Group Mobile
Headquartered in Phoenix, AZ, Group Mobile serves customers all over North America. Customers range from Fortune 500 companies and the U.S. Military, to local police/fire/ambulance, to small and mid-size businesses, to the frequent traveler that needs something more durable than a commercial, off-the-shelf computer. Group Mobile carries all the leading rugged computing brands. In addition, Group Mobile offers vehicle docking and mounting equipment from Gamber Johnson, Ram Mounts, and Havis/Ledco. To learn more about rugged computers and how they differ from commercial, indoor computers, check out the Rugged Computer Guide or visit us online at http://www.groupmobile.com.
About Trimble's Mobile Computing Solutions Division
Trimble's Mobile Computing Solutions Division offers innovative products that enable mobile workers to be more efficient in extreme outdoor and industrial environments. The Juno T41, Yuma® 2, Ranger™, and Nomad® outdoor rugged handheld computers help users collect accurate field data and work more productively in any outdoor or service-related application. Trimble's handheld computers meet MIL-STD-810F/810G military specifications for drops, vibration, immersion and temperature extremes, and with IP65 to IP68 ratings, are sealed against water and dust. To learn more, visit: http://www.trimble.com/rugged.
About Trimble
Trimble applies technology to make field and mobile workers in businesses and government significantly more productive. Solutions are focused on applications requiring position or location—including surveying, construction, agriculture, fleet and asset management, public safety and mapping. In addition to utilizing positioning technologies, such as GPS, lasers and optics, Trimble solutions may include software content specific to the needs of the user. Wireless technologies are utilized to deliver the solution to the user and to ensure a tight coupling of the field and the back office. Founded in 1978, Trimble is headquartered in Sunnyvale, Calif.