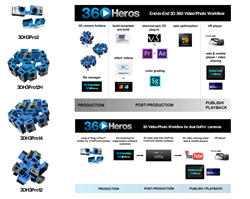 Fully spherical 3D 360 Video is here and the Oculus Rift fans are going to love it!
Olean, New York (PRWEB) April 01, 2014
Michael Kintner, CEO/Inventor at 360Heros Inc., is excited to share the latest in the evolution of groundbreaking stereoscopic 3D360 filming equipment, milestones in workflow design, and publishing/playback options with free hosting. In a convergence of research and beta testing at 360Heros, the unlimited potential of stereoscopic 3D 360° imagery is available to everyone free of publishing fees. Based on our 2xcamera 3D configuration, three variations of our lightweight patent-pending 3D printed GoPro® camera holders capture left and right eye video for stunning 3D immersive content creation. Our new 360CamMan™ file management software is an affordable solution for simplifying formatting SD cards and organization of camera files, and an essential link in the chain for 3D and 2D 360 video production. After fast camera file download and automatic sorting into folders, simply drag and drop into your favorite video stitch packages. The 3D 360 model line up:
3DH3Pro12H – Horizontal Based - 3D Horizontal/2D Top/Bottom - Using Twelve 12 GoPro cameras, full 3D 360x180 horizon based and 2D top and bottom blended. Stitches perfectly with existing software.
3DH3Pro14H – Horizontal Based - 3D Horizontal/3D Top/Bottom - Full spherical, 14 GoPro cameras, full 3D 360x180 horizon based – 3D on the horizon, 3D up and down. Stitches perfectly with existing software.
3DH3Pro12 – Spherical Based - 3D Spherical - Full spherical, 12 GoPro cameras, full 3D 360x180 horizon based – 3D fully spherical all around you. Stitching is challenging however software is being built to support the process.
Visit us at NAB at StudioXperience booth SU621, and Michael Kintner's presentation on Monday, April 7th @ 11:20 a.m. With the support of Intel, we will be presenting our new 3D 360 Video gear, 360 Aerial Orb, 360CamMan file manager software, and free 360 mobile player and Hosting Center.
360Heros CEO & Inventor, Michael Kintner, holds a BS in Manufacturing Engineering & Robotics, MS in IT Management and Business Administration, and is working towards a PhD in IT Education. His passion for videography, aerial photography and UAV piloting led him to the drawing board to design a lightweight and cutting edge 360 video/photography system, 360 video production and workflow solutions, and training resources. 3D-printed aircraft grade flexible nylon holders for GoPro® cameras make 360Heros Plug-n-Play™ gear the most rugged and versatile gear for filming All Around You™. For more information, visit http://www.360heros.com.