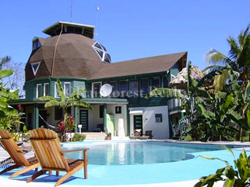 "Though there are lots of business-for-sale directories out there, nothing really spoke to the expats and globally-minded entrepreneurs looking for that overseas adventure."
Panama City, Panama (PRWEB) March 11, 2014
A common stumbling block preventing many from taking the much needed leap overseas stems from worries over earning sufficient income. For the ever-increasing demographic of globetrotting expatriates, it's no secret that the business and workplace spheres are no longer restricted by country or region. For most, the problem lies in where those international businesses and opportunities can be found.
Overseas Ventures is a recently launched website developed to simplify that process. Designed as a one-stop resource and business-for-sale directory, it is specifically geared toward those looking to buy businesses overseas. Whether you are seeking a boutique hotel in the Caribbean, a tiki bar on the beach in Belize, or an investment opportunity in the burgeoning Central and South American economies, Overseas Ventures promises to have what you're looking for.
The founders and management team of Overseas Ventures are heavily involved in global entrepreneurialism and expatriation themselves. This gives them an edge in knowing what those looking to purchase businesses abroad require, and was integral in designing the website's easy-to-use online platform. With radio-style interviews speaking with real business owners and experts abroad, exhaustive information about the operations of each business it lists, and a country-specific approach to presentation, Overseas Ventures targets a new and growing niche of location-independent buyers and sellers.
"I've always been interested in moving out of the United States, and it's incredibly hard to find accurate information about what business opportunities exist in foreign countries," said OV co-founder and US citizen David Gregerson. "Though there are lots of business-for-sale directories out there, nothing really spoke to the expats and globally-minded entrepreneurs looking for that overseas adventure."
We also spoke with the Managing Director of Overseas Ventures, Corey Coates, about the development of the website and its focus on an "expanding and exciting" market.
"With an upcoming wave of young families moving abroad, cubicle junkies tiring of the commute, and people simply looking for a happier, healthier lifestyle, Overseas Ventures fills a big gap in the current resources available online," Coates said in a phone interview. "I've been living abroad for over seven years now, and I've seen an exponential increase in younger expats opening or buying businesses in emerging markets. When I was approached by Overseas Ventures, everything about their vision for the website got me very excited — it just makes good sense to aggregate these businesses in one place."
Though many similar websites do feature classified ads and business sections, none have taken the next step of concerting efforts on connecting businesses for sale abroad with potential buyers.
"Thousands of people are ready to make the leap. Some are looking to apply their current skills or, in some cases, develop new ones in lifestyle destinations that offer broader opportunities more suited to their personal and professional goals," Coates affirmed. "It's time to give dreamers an actual pot of gold at the end of the rainbow."
Overseas Ventures recently launched carrying listings in North, Central, and South America (including the Caribbean). With further rollout in Europe and Asia expected later this year, the company is positioning itself to be the first stop on a journey to make your dream of living and working abroad a reality.
For more information, to join the affiliate program, or to have your business for sale listed, simply visit http://www.overseasventures.com.