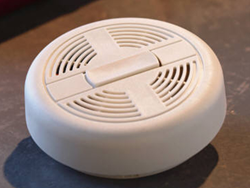 Lincoln, RI (PRWEB) March 07, 2014
Daylight Savings Time begins on Sunday, and, in addition to turning clocks ahead, Amica Insurance recommends replacing batteries in smoke alarms.
According to the National Fire Protection Association (NFPA), almost two-thirds of home fire deaths occur in homes with no smoke alarms or no working smoke alarms. That's why it's important to have alarms that are properly installed and stocked with fresh batteries.
Amica is also sharing the following tips from the NFPA regarding smoke alarms:

Install alarms in every bedroom, outside each sleeping area and on every floor, including the basement. Since smoke rises, alarms should be placed high on a wall or on the ceiling.
Alarms should be tested once a month to make sure they're working correctly.
Replace the batteries at least once a year. If an alarm alerts you that the battery is low, possibly with a chirping noise, it should be replaced immediately.
Replace alarms every 10 years or sooner if they're not responding properly.
About Amica Insurance
Amica Mutual Insurance Co., the nation's oldest mutual insurer of automobiles, was founded in 1907. The company, based in Lincoln, R.I., is a national writer of automobile, homeowners, marine and personal umbrella liability insurance. Life coverage is available through Amica Life Insurance Company, a wholly owned subsidiary. Amica employs more than 3,200 people in 40 offices across the country.
CONTACT: Vince Burks, Corporate Communications, 50 Amica Way, Lincoln, RI 02865-1155, 800-652-6422, ext. 24563
Twitter: Amica
Facebook: Amica Mutual Insurance Co.