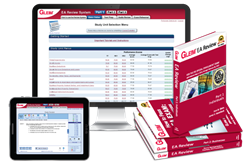 Orlando, FL (PRWEB) March 11, 2014
The 2014 edition of Gleim EA Review marks the premier of the Gleim Study Planner, which will be accessible in Gleim Online. The study planner is intuitively designed to allow for quick set-up and automatic syncing with Gleim Online and EA Test Prep, the Gleim question test bank. The calendar will not only show important due dates and study milestones, but it will also visually highlight the exam topics where EA Exam candidates are strong and where they need additional help. Personal Counselors augment the Study Planner via one-on-one assistance with the candidate's study schedule and exam support.
As always, EA Exam candidates can rely on the Gleim expertly authored materials. Gleim features two illustrious co-authors, Dr. Irvin Gleim and Dr. James Hasselback, who combined have over 6 decades of teaching experience and are highly respected in the field of accounting education. As a testament to his reputation, Dr. Gleim was recently recognized by the prestigious Fisher School of Accounting at the University of Florida for creating "renowned accounting [materials] that to this day are the field's authoritative resource."
Practice makes perfect, and Gleim EA Test Prep offers the industry's largest test bank with over 3,600 questions. The Gleim EA Test Prep exclusively offers Practice Exams that emulate the Prometric testing environment, meanwhile, the Gleim Study Sessions feature an exciting new function that allows EA Exam candidates to access the appropriate section of the outline for extended learning capability.
Contact us today to learn more about Gleim EA Review.
Team Gleim
800.874.5346
accountingteam(at)gleim(dot)com
http://www.gleim.com/EA2014