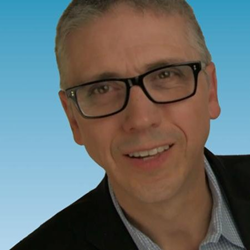 With the vast growth of this segment, ed apps represent a vital component of education for digital natives.
Nashville, TN (PRWEB) March 11, 2014
Today, RANDA Solutions announced the panelists on an all-star mobile education app forum at ASCD's 69th Annual Conference and Exhibit Show convening in Los Angeles March 15-17. Randall Dennis, RANDA's Chief Strategy Officer, will moderate the "EdApp Nation" panel Saturday, March 15th at 1:00PM in the LA Convention Center.
"With the vast growth of this segment, ed apps represent a vital component of education for digital natives," says Dennis. Indeed, researchers estimate more than half of children ages 8 and under have regular access to mobile devices, and 29 percent of America's parents surveyed have downloaded ed apps for their children. This segment represents a formidable, but largely under-reported component of #edtech.
"This topic and venue is exciting. Further, I'm thrilled with the caliber of thought leaders seated on this panel," adds Dennis. Education leaders on the stage include:

Alicia Levi, Vice President, PBS Education, who oversees education efforts in developing digital education services for PBS, public television stations, students and teachers. Alicia is responsible for PBS' strategic partnerships, digital media production, professional development and other emerging products and services that support the PreK-16 education market.
Karen L. Mahon, EdD, President of Balefire Labs. As founder of Balefire Labs, Karen's brings her background as an Educational Psychologist and Instructional Designer to developing practical solutions for educators who use technology in their classrooms. With its growing reputation as the most rigorous educational app review service in the market today, Balefire Labs helps educators and parents find the highest quality instructional apps for their kids, quickly and easily.
Sam Gliksman, consultant, speaker and author, recognized as prominent expert on edtech and educational reform for over 25 years, is engaged as a speaker internationally.  Sam has been very active in promoting the use of mobile technology in education and has consulted with schools, districts and even governments and is the author a widely acclaimed book: "iPad in Education for Dummies" by Wiley Press. And also founded and manages the very popular iPads in Education Ning community website that has a membership of many thousands of educators worldwide.
"I anticipate a lively discussion with educators willing to honestly address 'The Good, the Bad and the Ugly' about ed apps, and the role they will play in education and gamification in the years to come," says Dennis. Attendance is open to all registrants of this year's ASCD conference and Twitter users can follow the event via Randall's @tech2learn account.
###
About PBS LearningMedia
PBS LearningMedia is an award-winning, digital media service that gives PreK-12 teachers and students easy-access to over 35,000 FREE digital resources. The content library covers a wide range of subject areas including science, engineering, technology, and math (STEM), as well as English language arts, social studies, and fine arts. Resources within the collection include videos, lesson plans, interactive games, self-paced activities, and primary source documents that are contextualized to support lesson planning and stimulate classroom discussion. Teachers have the ability to filter their searches based on National and Common Core State Standards alignment and can save and share their favorite finds. Currently, over 1.4 million users have registered access to PBS LearningMedia.
About Balefire Labs
Based in Tyngsborough, Mass., Balefire Labs, Inc. is a provider of tools and services that foster a child's learning & achievement. Launched in 2013, the new online service provides parents and teachers objective evaluations on PreK-12 educational apps based on rigorous, scientifically-validated criteria, so they are confident they are choosing products that are most beneficial for their children. It is the only service available that uses objective criteria and makes its evaluation process transparent to parents and teachers. App reviews are also searchable according to Common Core State Standards. Balefire Labs, Inc. accepts no advertising dollars or third-party vendor payments for reviews. For a free trial of the Balefire Labs educational app review service, please visit http://www.balefirelabs.com. Balefire Labs can found on Facebook (https://www.facebook.com/BalefireLabs) and Twitter (@BalefireLabs).
About RANDA Solutions
RANDA Solutions is an INC. 5000 software firm based in Nashville, TN serving the education sector. RANDA acquires, manages and utilizes data providing administrators and teachers a variety of education intelligence: Student Data, Educator Data, and Third-party Data (crime maps, community demographics, school climate, early warning data, etc.). Historical and live data reporting, along with additional customized content, is delivered via RANDA's secure web portals and integrates seamlessly with RANDA's cross-platform mobile applications for iPads and Android devices.