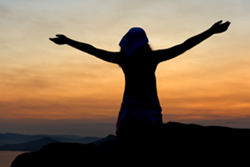 There Is Hope After Divorce
Los Angeles, California (PRWEB) March 09, 2014
Divorce is never an easy road. But the Life After Divorce Radio Show and the Divorce Support Center are hoping to make it just a little bit easier. This week, Divorce Support Center experts Tia Sorensen, Allison Lloyds, and Toni Coleman dish about the secrets to healthy relationships, coping with grief, and keeping your mutual friends after a divorce.
Allison founded Synergetic Psychotherapy to help people live their best lives. She is a licensed marriage and family therapist (LMFT) in private practice with offices located in Manhattan and Mt. Kisco, NY; Allison works with individuals, couples and families in addition to facilitating ongoing psychotherapy groups. She enjoy helping people gain insight, learn healthier ways to cope with problems and enhance their relationships. Allison has extensive training in: Mediation (IMDR Mediation Certification 40-hour Training Completed), Animal Assisted Therapy (Certified), Mindfulness Techniques, Cognitive Behavioral Therapy, Family Systems Therapy, Narrative Therapy, Family Business Consulting. Allison holds a master's in Marriage and Family Therapy from Mercy College (high honors) and a Bachelor of Science from Columbia College/Columbia University. She began her clinical graduate-level training at the Child and Family Institute at St. Luke's and Roosevelt Hospitals located in Manhattan. Allison held a training-level position at a leading private marriage and family therapy practice in Manhattan, Metropolitan Marriage and Family Therapy, PLLC, offering relationship therapy to couples, individuals, and groups. She received further post-graduate training at the St. Marks Place Institute for Mental Health, also located in Manhattan, where Allison worked with a diverse group of children, adults, families, and couples. Allison is a contributing expert at HopeAfterDivorce.org, FamilyShare.com, CupidsPulse.com, and LAFamily.com. Follow her on Twitter @SynergeticPsych.
Tia is a graduate of Utah Valley University, having earned her degree in Behavioral Science. She is a group fitness instructor, and health and fitness coach. Together, Tia and her Mother have developed their successful marriage and relationship programs. She has a vested interest in working with children of divorce. Tia works with children, helping them learn the tools they need in order to build healthy, loving relationships and marriages centered on mutual respect and responsibility once they've moved into adulthood. She is a contributing expert for HopeAfterDivorce.org, DivorceSupportCenter.com, FamilyShare.com, and LAFamily.com.
Toni Coleman is an internationally recognized dating and relationship expert and founder of http://consum-mate.com. Her expertise is sought frequently by local and national publications, top-ranked dating and relationship websites. Toni has been a guest on a number of radio and TV programs. She is the featured relationship coach in The Business And Practice Of Coaching, (Norton, September 2005); and authored the forward of Winning Points With The Woman In Your Life, One Touchdown At A Time (Simon and Schuster, November 2005). Toni's popular relationship articles can be found in several magazines and a number of self-help, personal growth, and dating/relationship websites. From March until December 2005, she was a weekly contributing commentator (love and dating coach) on the KTRS Radio Morning Show, (St. Louis, MO). Toni holds a master's degree in Clinical Social Work, is a licensed psychotherapist in the state of Virginia, and holds certification in life coaching. She is a member of The International Coach Federation and The National Association of Social Workers. Toni writes bi-weekly for HopeAfterDivorce.org and FamilyShare.com. Follow her on FB at http://www.facebook.com/coachtoni.coleman and Twitter @CoachToni.
The Life After Divorce Radio Show is hosted by Carolyn Hall and Lisa LaBelle. It is hosted today at 3:30 p.m. PST at http://www.blogtalkradio.com/cl3agency/2014/03/07/life-after-divorce-divorce-support-center-experts-article-edition. To speak with the hosts, call (949) 534-0723.
About the Divorce Support Center
The mission of the Divorce Support Center is to improve the financial and emotional resources of people negatively impacted by divorce by providing three educational services: a state-of-the-art online educational center, face-to-face and online support groups, and scholarship opportunities. Dr. Amy Osmond Cook is the executive director. For more information, please email amy(at)divorcesupportcenter(dot)com or call 707-280-4448.