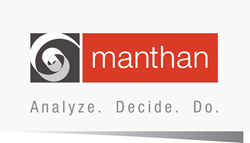 Today's consumers are social, mobile and demand personalization at every touch point.
London (PRWEB UK) 10 March 2014
Manthan Systems, the global leader in analytics solutions for Retail and Consumer Product industries, announced today the roll-out of their ARC Customer Analytics portfolio to the Europe market. ARC Customer Analytics embeds sophisticated algorithms within its analytical products to drive customer engagement and relevance for the retail marketer. Retailers can start their customer engagement journey by deploying customer scoring algorithms and look at behavioral nuances to maximize the future share of wallet with CLTV algorithm. Manthan will showcase this algorithm and the entire Customer Analytics portfolio at Retail Business Technology Expo, London, March 11-12, 2014.
"Today's consumers are social, mobile and demand personalization at every touch point. Retail and CPG marketers need to find ways to understand the changing customer topography and drive two-way conversations with customers to influence consideration, purchase and loyalty", said N Anand Sri Ganesh, SVP and business head - Customer Analytics, Manthan. "Manthan's Customer Analytics solutions bring the retail marketer closer to such customers by harvesting the power of CLTV modeling so that they don't have to lose a valuable customer again".
Manthan is one of the very few players in the world focused on Retail Analytics solutions from its very inception and it has brought together this rich retail experience and cutting edge technology to design the CLTV algorithm specifically for the use of retail marketers. With Manthan's approach to CLTV, retailers can optimize their marketing spend to coerce superior retention, revenue and profit. By using CLTV in combination with RFM scoring, retailers can also identify not just the highest and lowest value customers but also those customers who may not be of high value today, but have a potential to spend more in the future.
Manthan will showcase its entire portfolio of ARC solutions at RBTE, London, March 11-12 at Booth #844. To schedule an appointment at the expo, please contact the company directly at http://www.manthansystems.com/event/rbte/.
-----------------
About Manthan
Manthan serves as the Chief Analytics Officer for global consumer industries. Manthan's portfolio of analytics products and solutions are complete as they enable data-driven analysis, decision-making and execution throughout the retail lifecycle. Manthan's solutions are architected with deep industry expertise, bringing together analytics, technology and industry-practices to provide sophisticated and intuitive analytical capability.
Manthan is a private limited company with global private equity firms like Norwest Venture Partners, IDG Ventures, and Fidelity Private Equity on its board. For more information, please visit http://www.manthansystems.com.