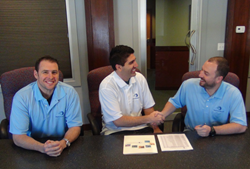 We strongly stand behind and believe in the equipment that Neptune Benson manufactures - Neal Hershey, Interlocked Filtration
(PRWEB) March 09, 2014
Neptune Benson, leading manufacturer of commercial aquatic filtration systems, ultraviolet disinfection systems and aquatics components is pleased to announce they have partnered with Interlocked Filtration Systems to represent the Neptune Benson product lines in the Pacific Northwest region.
"We are really excited to partner with the Neptune Benson team. We strongly stand behind and believe in the equipment that Neptune Benson manufactures" states Neal Hershey, Director of Technical Services of Interlocked Filtration Systems. Neal goes on to say "As a field technician for many years, I have seen Neptune Benson products withstand the test of time and the water quality is unsurpassed."
Interlocked is a technical water treatment company that sells, services, supports and distributes high quality water treatment equipment that is utilized in a variety of applications.
"Neptune Benson is pleased to have a strong partner in Interlocked to meet our ever increasing client needs in many diverse markets, we look forward to working with them" states Matt Moriarty, Regional Sales Manager, Neptune Benson.
Please contact Neptune Benson or Interlocked Filtration Systems, in the Pacific Northwest for more information on Neptune Benson product lines. Interlocked Filtration Systems 888-212-1513 http://www.infilsys.com
About Neptune Benson
Neptune Benson is the leading manufacturer of filtration and ultraviolet disinfection systems for aquatic centers, waterparks, industrial and municipal applications and aquatic life support. Featuring the award-winning Defender® Regenerative Media Filter, and the ETS Ultraviolet Disinfection System; Neptune Benson also offers steel & fiberglass sand filter systems, the AEGIS anti-entrapment shield, fiberglass movable bulkheads, Dominion butterfly valves, Guardian strainers and other Lawson Aquatics accessory products
Purity Unrivaled™
See: http://www.neptunebenson.com
About Interlocked Filtration Systems LLC
Interlocked Filtration Systems LLC is a technical company that sells and services specialized water treatment equipment in a variety of applications. We offer a wide range of technical services that include preliminary site surveys, installations, commissioning, preventative maintenance, and emergency repairs. Our technical services are geared to provide the highest level of support for the equipment we represent in the field, but can be tailored to meet client specific needs for other equipment as well. See: http://www.infilsys.com