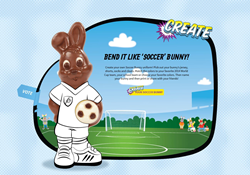 Reading, PA (PRWEB) March 09, 2014
To introduce its new hollow chocolate bunny named Soccer Bunny, R.M. Palmer Company is kicking off a sweepstakes with a grand prize of a sixty-inch flat screen TV and 32 runner-up prizes of Soccer.com gift cards. The prizes will be awarded to several lucky winners in time to watch the 2014 World Cup in style.
Palmer, the leading manufacturer of hollow chocolate bunnies, has released Soccer Bunny, a fun and sporty new milk chocolate bunny for Easter 2014. Adding to the one billion chocolate bunnies Palmer produces per year, Soccer Bunny weighs five ounces, has a soccer ball painted on its hip and comes in a yellow or blue jersey. To promote the release of Soccer Bunny, Palmer has launched the Soccer Bunny Sweepstakes, a giveaway in which entrants have the chance to win one of the following prizes in time for the 2014 World Cup:

One Grand Prize Winner - 60″ Flat Screen TV ($1,000 value)
Two Second Prize Winners - $500 Soccer.com Gift Card
Ten Third Prize Winners - $100 Soccer.com Gift Card
Twenty Fourth Prize Winners - $50 Soccer.com Gift Card
"At Palmer, we love Easter as much as our fans do. A large portion of those fans are also huge soccer fans. We wanted to create a product for those fans and then reward them with a big giveaway," stated David Abramson, Director of Sales & Marketing for R.M. Palmer. Abramson continued, "The timing couldn't be better. Imagine watching the 2014 World Cup on a brand new big screen TV or while decked out in head-to-toe soccer swag from soccer.com. We wanted to make that a reality for our loyal fans. That's why we're giving away thousands of dollars in prizes."
To enter the sweepstakes, entrants can register to win at http://www.soccerbunny.com; no purchase is necessary to win. The sweepstakes runs from March 1, 2014 to April 20, 2014 and winners will be announced on or around May 7, 2014. Additional entries can be earned through Facebook shares. Additional entries are earned each time a new participant enters the contest from an entrant's share link. In addition to giving fans an opportunity to enter to win, the Soccer Bunny website also includes other fun soccer-related activities, allowing fans to dress their own Soccer Bunny in their favorite team gear, vote for their favorite World Cup team and find retailers selling Soccer Bunny in their area.
ABOUT RM PALMER COMPANY
R.M. Palmer Company has been crafting fun, seasonal chocolate novelties since 1948. Today, the R.M. Palmer Company is considered one of the top 100 confectioners in the world. From their headquarters in West Reading, PA, Palmer's 850 dedicated employees design, produce, package and ship more than 500 unique items to nearly 100,000 retail locations in North America - making it one of America's largest and most innovative confectioners. For more information about R.M. Palmer Company, visit http://www.rmpalmer.com.