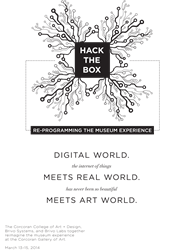 There are radical implications for our built environment when we adapt social media as a virtual key to access real space and meaningful information.
Bethesda, MD (PRWEB) March 10, 2014
Brivo Systems and Brivo Labs, a business unit of Brivo Systems dedicated to social access management through the Internet of Things, is now collaborating with the Corcoran Gallery of Art and College of Art + Design to develop a way to carry on its tradition in a new and innovative fashion. The cloud-based technology company will explore how new technologies can allow people to interact with physical spaces through this collaboration with the cultural institution.
"We are excited and honored to be working with the Corcoran as we bring the technology and software development community together with the design community," noted Lee Odess, Vice President of Marketing for Brivo Systems and General Manager of Brivo Labs. "The collaboration will bring new ideas and solutions to the market not only for our customers, but it will also expand technology as a whole within the design community. Brivo Systems and Brivo Labs considers this relationship as an opportunity to support a historically prestigious educational institution whose evolution is significant to the Washington, DC community."
The collaboration kicks off during a three day workshop held March 13-15 where teams of Corcoran design students and Brivo employees will study the implications of new technology in conventional spaces.
"There are radical implications for our built environment when we adapt social media as a virtual key to access real space and meaningful information," said Jonathan Healey, Assistant Professor of Exhibition Design & Interior Design, Corcoran College of Art + Design. "The design problem here challenges us to consider how these innovations will affect an individual's experience, from their first point of contact, to their participation in a shared experience over time."
These conclusions will be further explored March 15 during Hack the Box: Re-programming the Museum Experience, a 12 hour brainstorming event located at Brivo Systems' Bethesda headquarters. Corcoran students, together with Brivo Systems team members will develop prototypes and conclusions that present how traditional museum spaces may be designed to interact with a networked audience.
The collaboration will not end there; outcomes from Hack the Box: Re-programming the Museum Experience will be presented April 25-27 in London during Chaos at the Museum, an international exhibition design summit.
###
About Brivo Systems
Brivo Systems is a SaaS company and worldwide leader of cloud-based physical access control and video surveillance systems. When first introduced in 2002, Brivo's Security as a Service model was a disruptive solution, and after a decade of evolution and innovation, it still is.
Currently managing over 4 million users, Brivo provides unmatched scalability and centralized security management for global enterprises, while retaining the ease of use that makes it a favorite for small and medium business customers. The company's award-winning Brivo OnAirSM security management system is unique in providing combined access and video management in a single cloud platform.
The company recently launched Brivo Labs (http://www.brivolabs.com), an Internet-of-Things business unit focused on the emerging Social Access Management market. Brivo Labs creates products and web API services that use Social IDs to connect virtual communities with physical spaces.
Headquartered in Bethesda, MD, Brivo was founded in 1999 and is a wholly owned subsidiary of The Duchossois Group.
About The Corcoran
Established in 1869, the Corcoran Gallery of Art was one of America's first museums of art—dedicated, in the words of founder William Wilson Corcoran, to "encouraging American genius." Today it is Washington, D.C.'s largest nonfederal art museum, known internationally for its distinguished collection of historical and modern American art, European art, contemporary art, photography and media art, and decorative art. A dynamic schedule of special exhibitions complements a range of educational programming, which together enrich the perspectives of the visiting public, support the local arts community, and encourage thoughtful interpretation of today's most compelling social issues. The Corcoran College of Art + Design was founded as a school of art in 1878 and stands as Washington's only four-year accredited college of art and design. The College is one of the few in the nation whose educational model includes an integral relationship with a museum, fostering the talent of the next generation of artists. For more information about the Corcoran Gallery of Art and College of Art + Design, visit http://www.corcoran.org.