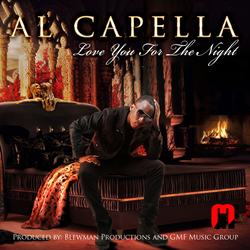 I work hard on my craft because I like to make good music that everyone can enjoy listening to.
Miami, FL (PRWEB UK) 11 March 2014
GMF Music Group artist AL Capella has released his brand new music video for "Love You for the Night", the first single from his upcoming album. The Song was originally released on March 5th 2014 and quickly became a fan favorite. To view the clip of the music video, visit his YouTube Channel at http://www.youtube.com/user/alcapella323
"Love you for the night" is a poignant ballad about love and tribulations in relationships. The video for the new single was shot in various locations in Miami, FL and filmed by GMF Music Group.
Earlier this year, AL Capella performed alongside the group Pure Pressure "I Need You" and is currently gearing up to perform in select U.S. Cities in the near future.
The 19 year old singer, originally from Los Angeles California, moved to Miami to further pursue his career in music.
Download "Love You for the Night" on iTunes: https://itunes.apple.com/us/album/love-you-for-the-night-single/id829711743
To Stay Connected with AL Capella:
Become a Fan on Facebook: http://www.facebook.com/alcapella323
Follow on Twitter & Instagram: @ALCAPELLA323
Website: http://www.al-capella.com