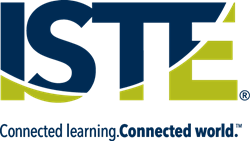 Washington, D.C. (PRWEB) March 10, 2014
Every day there is another headline about schools or districts considering the move to mobile learning. Some are successful. All face many hurdles. Today the International Society for Technology in Education (ISTE) released a new tool that educators can use to effectively implement mobile learning, including BYOD, in their schools.
"Bring Your Own Learning: Transform Instruction with Any Device," authored by Lenny Schad, tells the story of how he led Texas' Katy Independent School District through the transition. Facing principal, teacher, parent and student frustrations with technology and engagement, Schad saw the need to radically change instruction, and mobile learning was the key.
The new book guides school leaders as they move from asking "Why mobile learning?" to "How do we implement mobile learning?" Schad details the implementation of four strategic initiatives focused on providing anytime, anywhere access to information through mobile devices, making instructional resources available via the cloud, and building an understanding of what it means for students to live successfully as digital citizens in today's world. This process recognizes the importance of ensuring that all stakeholder groups, including school board, superintendent, district staff, campus principals, teachers, parents and students are on board. School districts of any size that are considering mobile learning can take Bring Your Own Learning and use it as a starting point for implementation, adapting it to their cultures and the readiness level of their environment.
Widely recognized as one of today's top education technologists, Schad was the chief information officer for Katy Independent School District. He currently serves as the chief information officer of Houston Independent School District, where he is implementing a 1:1 program for the nation's sixth largest school district.
Bring Your Own Learning: Transform Instruction with Any Device
by Lenny Schad
ISBN: 978156483388
ISTE Member Price: $17.47; Nonmember Price: $24.95
About ISTE
The International Society for Technology in Education (ISTE®) is a nonprofit organization supporting educators and education leaders committed to empowering connected learners in a connected world. Home to ISTE's conference and expo and the widely adopted ISTE Standards for learning, teaching and leading in the digital age, the association represents more than 100,000 professionals worldwide. For more information, visit iste.org. Follow ISTE on Twitter @ISTEConnects.