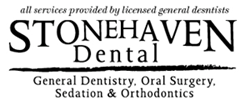 Salt Lake City, Utah (PRWEB) March 14, 2014
Dentists in Lehi are discovering the incredible effectiveness of sedation dentistry on a valley wide scale. With a safe treatment like sedation dentistry, patients will be able to successfully forgo any anxiety or fear that they might be experiencing during their procedure. Stonehaven's mastered sedation techniques allow patients to calm their nerves prior to the procedure and to go to sleep for the duration of it. That way, they wake up with a peace of mind and the procedure having successfully been completed. Patients' satisfaction with these noteworthy techniques has skyrocketed in recent years due to the success rate at which Stonehaven has utilized it and is forecasted to increase further with its popularity among dental offices in Utah.
Stonehaven already has an unblemished reputation for providing top of the line dental services to their clients. By offering sedation techniques to their patients of every age, they continue to demonstrate their high level of concern for not only their patients' health but also their state of mind. Patients will be able to have an entirely new dental office experience when they try this cutting edge treatment. They will not have to face the grueling fear that often accompanies children and people with anxiety upon exposure to unfamiliar terrain or uncomfortable circumstances. They will be greeted by smiling faces when they awake from their sedation treatment with their procedure having been successfully completed. Stonehaven has made sedation techniques readily available in all of their dental offices in Utah so that when patients are searching for reliable dentists in Lehi, they will immediately recognize the expertise and mastery that Stonehaven has acquired in all areas of their skills.
The dentist's office will no longer be a scary encounter for people ridden with anxiety. Once patients walk through Stonehaven's doors, they will recognize the friendly, amicable, and professional setting and be at peace. In addition, the professional and top of the line services that Stonehaven has to offer will surely comfort them, including their famous sedation dentistry. The dentist doesn't have to be scary anymore, thanks to the kindred efforts of Stonehaven. It can once more be a place of comfort and of healthy. For more information, visit their website at http://stonehavendental.com/.