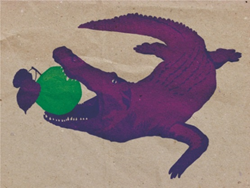 I see it as an adventure, really. A perilous journey through a different Manhattan, like an alternate reality and I'm going to go and draw this alternate city and all the strange things there.
New York, New York (PRWEB) March 10, 2014
Kickstarter has just passed one billion dollars funded towards various projects and has fast become the crowdfunding juggernaut on the web. Kickstarter attracts entrepreneurs from the world over to showcase ideas and projects for funding.
Talented freelance illustrator J M Cooper seeks to head to NYC to explore the weird side of Manhattan. The artist will spend a month roaming the streets and interviewing the inhabitants to create an art book of illustrated oddities, urban myths, and strange rumors. Crowdfunding sites allow for the creation of projects that then are promoted by the creator. Each project will have individual funding goals and a deadline to reach them. Project creators will also establish funding tiers and rewards for those who fund at that level. For Cooper the rewards range from advance copies of her book to custom illustrations of the backer.
J M has been working as a freelance illustrator for four years, specializing in vector illustration for clients worldwide. Should the Kickstarter campaign be successful, she will spend 30 days living in NYC to work on the Strange Island project full time.
"I spent some time in NYC a couple of years ago and fell in love, it's a place like no other. But wherever you have people living in such close proximity, strange rumors and myths start to develop – it happens everywhere. I wanted to make this book about Manhattan because it has such a wealth of myths and legends and general strangeness, but also because it's so famous. Everyone has their own version of it in their heads, whether they've been there or not."
With many crowdfunding sites out there Cooper chose Kickstarter because of the site's success. Kickstarter's, "All or Nothing" funding model means that projects have to reach their fundraising goal or not get any of the money. The project backers, people who pledge money to fund a project, receive no monetary compensation. Instead they receive only the rewards from the project's creator.
About Strange Island - 30 Days of Manhattan Weirdness Illustrated on Kickstarter
Everyone who backs the project will receive a reward, ranging from hand drawn postcards and copies of the finished art book to bespoke prints and commissions. Around half of the $3700 goal has already been raised and the campaign runs until Sun, Mar 23 2014. Find out more about Strange Island - 30 Days of Manhattan Weirdness Illustrated.
Updates @ManhattanWeird
About J M Cooper
J M Cooper is a professional freelance illustrator who loves her job. She creates strange and beautiful vector illustrations for international clients. When not glued to her computer she enjoys science fiction, a nice glass of wine, and beating everyone at scrabble.
Contact for more info:
jmcooper(at)jmcooperart(dot)com UK: 07584417343 SKYPE: jmcooperart
Illustration portfolio: http://www.jmcooperart.com