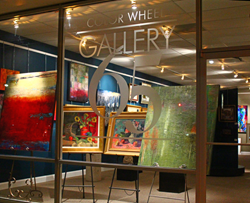 When people come in and compliment my space or the texture on a painting or the way the artist used a brush stroke, I know that I have purchased the right product. - The Bazemore Gallery
Rochester, NY (PRWEB) March 17, 2014
SoLux lighting has established itself as the premier light source in the art world. Hundreds of private and institutional art galleries along with world class museums have turned to SoLux to optimally present and preserve their priceless collections. The Bazemore and Color Wheel Gallery 65 have recently installed SoLux to the delight of their owners, directors, and patrons.
The Bazemore Gallery is a boutique art gallery, located in the historic section of Manayunk, Philadelphia. Their mission is to introduce mid-level to well established contemporary artists. The art on their walls is "food for the soul".
--Lenny Bazemore, Owner of the Bazemore Gallery, Philadelphia, PA.
"After many months of searching for the perfect lighting for my art gallery, I came across SoLux lighting from Tailored Lighting. Starting with the very first phone call, my customer representative was patient and informative. Philip was kind and took his time explaining to me all of my options for lighting the art work in my gallery. I explained to him that my space was very Zen and I wanted dynamic lighting and now when people come in and compliment my space or the texture on a painting or the way the artist used a brush stroke, I know that I have purchased the right product from Tailored Lighting. I am very pleased that my customers can really see the painting and all of the colors more vividly. Thank you Tailored Lighting."
Color Wheel Gallery 65 is a Fine Arts Gallery that represents mid-career and established nationally known American artists, both locally and throughout the United States. They exhibit Abstract, Figurative, Impressionistic, and Realistic styles.
--Gail Roberts, Director of Gallery 65, McLean, VA.
"SoLux lighting adds depth and dimension to the paintings that is not ordinarily seen with traditional lighting. The value and tone of the colors become highlighted and the whites are luminous when using the SoLux bulb and fixtures... We love the look SoLux brings to the art in Gallery 65."
SoLux is a patented light source sold by Tailored Lighting Inc., Rochester, New York, 14624. SoLux provides an unparalleled replication of natural daylight. Use of SoLux in many of the world's top museums including the van Gogh, Musee d'Orsay, MoMA, and Guggenheim is testament to its unmatched color quality and safety. SoLux also has eight times the life and twice the efficiency of standard incandescent sources, is dimmable, and is a fraction of the cost of LED sources. For more information visit http://www.solux.net or call (800-254-4487).