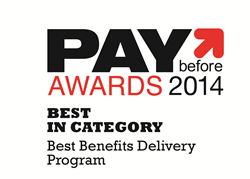 Hunt Valley, MD (PRWEB) March 10, 2014
Drawing comparisons to the movie industry's Oscars, the prepaid, mobile and emerging payments industry gathered in Las Vegas on Tuesday, March 4 to recognize its best and brightest at the 2014 Paybefore Awards Ceremony. This year, ConnectYourCare's HSA On Demand product took home the award for "Best Benefits Delivery Program."
"This award is a perfect culmination of the innovative thinking, dedication and drive that went into creating an industry leading tool like HSA On Demand," said ConnectYourCare CEO Jamie Spriggs. "By eliminating the consumer's number one concern, we have made HSAs more accessible to all Americans and empowered them to make the best healthcare choices now and in the future."
ConnectYourCare's HSA On Demand was selected by a panel of five industry experts who served as judges for this year's competition as well as a Sixth judge -- visitors to Paybefore.com -- who collectively cast 11,000 votes for Best in Category nominees.
With HSA On Demand, employers no longer need to seed all contributions up front to protect their employees from costly medical expenses before contributions are made, and gains significant ROI by deferring the employer contribution(s). When HSA On Demand is active, employees using ConnectYourCare's healthcare payment card can access funds from contributions previously made to the savings account plus any available "advance" funds immediately at the point of sale. The amount of advanced funds available is determined by the annual contributions a member elects during enrollment.
About ConnectYourCare
ConnectYourCare's consumer-directed healthcare platform provides a fast path to account-based health plans, enabling firms to lower health benefit costs while empowering consumers with the tools they need to better manage health savings. The solution of choice for large employers, health plans and banks, ConnectYourCare offers a fresh approach to health savings by combining a simplified experience, seamless access and a unique coaching model to accelerate savings and consumer engagement. By removing complexity and motivating individuals to take control of health savings, ConnectYourCare maximizes return on investment for all participants in the healthcare benefits value chain and enables everyone to simplify, save and grow.
About Paybefore
Paybefore is the leading information provider to prepaid, mobile and emerging payments industry professionals, offering the latest news, commentary and analysis. Paybefore's family of industry publications includes: Paybefore.com; Pay NewsTM; Pay GovTM; Pay WeekTM; Pay Op-EdTM; Pay MagazineTM, a biannual print publication featuring in-depth articles on the opportunities, challenges and trends in the global payments industry; and the only industry directory, Pay ConnectTM buyer's guide, available online and in print. Visit us at http://www.paybefore.com.