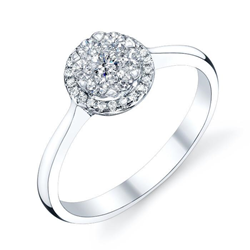 Los Angeles, CA (PRWEB) March 10, 2014
Chow Tai Fook Jewellery Group Limited ("Chow Tai Fook" or the "Company"; collectively with its subsidiaries, the "Group"), the world's largest jeweller by market capitalization with over 80 years' heritage, and Aaron Shum Jewelry Limited ("Aaron Shum Jewelry") proudly announced they have entered into an exclusive distributorship for the Greater China region whereby Chow Tai Fook will launch a new diamond collection in Aaron Shum Jewelry's innovative patented Coronet design in Hong Kong, the Mainland of China, Macau and Taiwan.
Chow Tai Fook Managing Director Kent Wong takes great pleasure in collaborating with Aaron Shum Jewelry. He said, "Chow Tai Fook is very glad to enter into the exclusive distributorship agreement with Aaron Shum Jewelry. We will soon launch a new line of diamond products using Aaron Shum Jewelry's patented Coronet design. Chow Tai Fook has more than 2,000 points-of-sale in over 400 cities in Hong Kong, Macau, Taiwan and all provinces in Mainland China. Through our extensive retail network, the new collection could penetrate into the entire Greater China market swiftly. We are very confident that the new products will be well received by the market."
Kent Wong continued that the partnership with Aaron Shum Jewelry demonstrates Chow Tai Fook's strict adherence to stringent partner selection criteria and its all-time persistence in aligning with its high standard for product quality requirement while developing more product categories, so as to provide consumers with more diversified products that are of guaranteed quality at highly competitive prices. The collaboration between the two companies brings their exceptional strengths in product design, technology and production together; and fully optimizes Chow Tai Fook's extensive retail network for high market penetration.
Aaron Shum Jewelry President Aaron Shum said, "As an original Hong Kong design, I am very honored that with Chow Tai Fook's extensive retail network of over 2,000 points of sales, more and more Chinese and Asian people have the chance to buy and enjoy our worldwide patented brand Coronet Solitaire. It brings a great step closer to our dream that Coronet Solitaire can be bought locally and globally every day and everywhere."
Coronet Solitaire, the flagship brand of Aaron Shum Jewelry, is a world-renowned jewelry brand that has gained tremendous success worldwide. Riding on its global success, Coronet Solitaire will definitely fuel the growth of the product portfolio of Chow Tai Fook. To debut the launch of the new product collection, a series of advertising and promotional initiatives in the pipeline will be rolled out across different media channels soon.
The partnership was kicked off on March 5 at the Hong Kong Exhibition and Conference Centre with an agreement signing ceremony by Mr Kent Wong, Managing Director of Chow Tai Fook Jewelry Group Limited and Mr Aaron Shum, President of Aaron Shum Jewelry Group; followed by a ribbon-cutting ceremony jointly officiated by Mr Peter Suen, Executive Director of Chow Tai Fook Jewelry Group Limited.
About Chow Tai Fook Jewellery Group Limited
Chow Tai Fook Jewellery Group Limited, a leading jeweller in the Mainland of China, Hong Kong and Macau, was listed on the Main Board of The Stock Exchange of Hong Kong in December 2011 and has become the world's largest pure-play jeweller by market capitalization.
The Group's iconic brand "Chow Tai Fook" and long-standing history of over 80 years of operations represent key competitive advantages of its business. The Chow Tai Fook brand is recognised for its trustworthiness and authenticity, and renowned for its product design, quality and value.
The Group has an extensive retail network, with over 2,000 points of sale in more than 400 cities in Greater China, Singapore and Malaysia. It also has a growing presence in e-commerce. The Group's vertically integrated business model provides an effective and tight control over the entire operation chain from raw material procurement, design, production, to marketing and sales through its extensive retail network.
About Coronet Solitaire
With its worldwide patented design, each piece of Coronet Solitaire is made from 7 high caliber diamonds set WITH NO PRONGS holding the centre diamond, along with precision of cut, symmetry and polish, which attribute to the best fit proportion to conceiving a luminous solitaire diamond effect yet at exceptionally competitive value. Thus, this patented Coronet Solitaire technique stands out above any other similar products on the market.
To their pride and joy, Coronet Solitaire had received the Hong Kong Top Brand Awards in 2010, and it is the first and only jewelry product brand in the history of Hong Kong industry winning this prestigious award. Besides, it had won the Hong Kong Famous Brand Award in 2012 and Hong Kong Star Brand Award in 2013 respectively.
Coronet Solitaire has acquired a global audience since its introduction, boasting numerous retail stores in North America, Europe and the Middle East, and will now be available and dazzling to its audience in the Greater China region.
Coronet Diamonds is North America's Exclusive Coronet Solitaire Jewelry distributor. Follow Coronet Diamonds on Facebook & Pinterest.
About Aaron Shum Jewelry Group
Founded since 1985 and headquartered in Hong Kong, Aaron Shum Jewelry has gained international recognition as a leading world-wide jewelry manufacturer. The company has gained prominence by developing an extensive collection of fine jewelry under worldwide patented brand names Coronet Solitaire, Princess Rose, Icestrella, La Posy, Flotilla etc. As a result of its successful product development and branding, Aaron Shum Jewelry has extended its footprint across the globe covering Europe, the USA, the UAE, China, Australia and Japan.