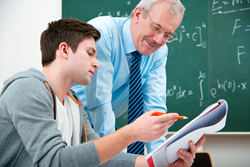 We believe the change will better reflect real-world and current classroom standards for college readiness.
Oradell, NJ (PRWEB) March 07, 2014
On Wednesday, March 5, the College Board announced major revisions to the SAT college entrance exam, to take effect in 2016. The new test will eschew obscure vocabulary questions in favor of terms more commonly used in school and post-college; will focus less on broad math concepts and include questions that are the most necessary to real-life applications; return scoring to the pre-2004, 1,600-point system; and make the essay question optional. Penalties for incorrect answers will also be removed, encouraging students to guess if they aren't sure of a correct answer.
Huntington Learning Center, a leading academic tutoring company that provides academic skills training and prepares hundreds of thousands of students for the SAT each year, is in favor of the pending changes to the test.
"It's a step in the right direction of being more real-world and more meaningful," noted Robert Huntington, of Huntington Learning Center, during an interview with Fox News. He also noted, "We believe the change will better reflect real-world and current classroom standards for college readiness."
Fox News visited the Huntington Learning Center on East 72nd Street in New York City to speak with Huntington and a ninth-grade student, who was also in favor of the changes. Ed Verney, Executive Director of the tutoring center in Nashua, NH, was interviewed for the Fox News Boston affiliate.
Huntington Learning Centers are in agreement with Steven Colon of the College Board that the test will be more practical for today's students and focus on the skills they need for their college years and, ultimately, their careers. Colon noted that the test will offer "worthy challenges, not artificial obstacles," and that "deductive reasoning is something we should embrace."
The new exam will also allow students the option to take the test on computers for the first time and include passages from important works such as the Declaration of Independence.
About Huntington Learning Center:
Huntington Learning Center was founded in 1977 when its first facility opened in Oradell, NJ. It has since grown to include hundreds of locations nationwide, providing high-quality tutoring to students of all ages.