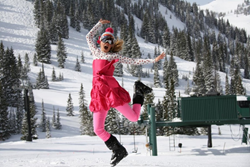 Alta In April is a great opportunity to reconnect with skiing... the weather is warmer and the snow is deep.
Alta, Utah (PRWEB) March 11, 2014
The Alta community is kicking off a month of fun for skiers and lodge guests beginning with the annual Alta Gala on Friday, April 4th at La Caille. "This season we have been reaching out to people who have never been on skis, never been to Alta or have just been away from us for too long," said Alta Chamber and Visitors Bureau (ACVB) Coordinator Maggie Sullivan. "Alta in April is a great opportunity to reconnect with skiing or try it for the first time, the weather is warmer, the snow is deep and there are great deals and events to take advantage of all month long."
The Alta Gala event on Friday, April 4 is an annual fundraising event for three non-profits in Alta: Alta Community Enrichment, Friends of Alta and the Alta Historical Society. Tickets for the event are $115 and include dinner, drinks, live music, dancing and a silent auction and can be obtained through altagala.org.
New this year at the Alta Gala there will be a $20 opportunity drawing, tickets sold in advance of and at the Alta Gala for an Alta Ski Area 2014/15 season pass or one day of heliskiing with Wasatch PowderBirds. The Stellar Award, presented each year at the Alta Gala pays special tribute to community figures for their unique and important roles in helping sustain our community; this year's recipient is Tom Pollard, Town of Alta Mayor. The goal of the Alta Gala is not only to raise money for these non-profits but to also raise awareness of the arts, environment and history of Alta. On Saturday, April 5, Alf's Restaurant will offer Beers and Brats, where for $10 you can buy a 16-ounce beverage and a bratwurst. On Saturday, April 12, skiers can demo 2014/2015 skis for free at the Spring Demo Day at Wildcat Base. Participate in Alta Earth Day, enjoy a red chair BBQ and music at Watson Shelter and celebrate Easter with an egg hunt and Easter brunch at Collins Grill, all during the month of April. Also enjoy many lodging, restaurant and rental deals throughout Alta in April. All events are open to the public. An entire list of events and lodging and rental deals can be viewed at Alta in April.
About Alta Chamber and Visitors Bureau (ACVB)
ACVB was formed in 2011 to promote Alta and Little Cottonwood Canyon as a world-class mountain resort destination and to enhance the visitor experience. ACVB functions with the assistance and support of the private business community, individual memberships and the Town of Alta.