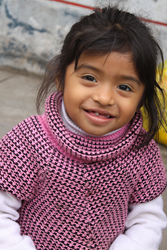 We must restore hope to young people, help the old, be open to the future, spread love.
Kansas City, KS (PRWEB) March 10, 2014
Unbound, formerly known as Christian Foundation for Children and Aging, has a new name but the same calling: to walk with the poor and marginalized of the world.
Founded in 1981 by lay Catholics who wanted to put their faith into action, we have helped hundreds of thousands lift themselves out of grinding poverty.
As a Catholic organization grounded in the Gospel call to serve the poor, Unbound is on the forefront of what Pope Francis is asking of all Catholics today.
"We must restore hope to young people, help the old, be open to the future, spread love," he said. "Be poor among the poor. We need to include the excluded and preach peace."
Unbound works directly with children, families and the elderly in 21 developing countries as they confront the challenges of poverty and work toward a better life. With more than 266,000 sponsors throughout the United States, we have sponsors in every diocese throughout the country.
Unbound is happy to help Catholic journalists with stories involving individual Catholics in your area who are doing great things in the world.
Topics include social justice and the dignity of the poor and elderly referenced by Pope Francis, the "new evangelism" and how it pertains to walking in solidarity with the world's poor, current events happening in the countries where we work and the Catholic presence in Latin America, even as a more evangelical landscape takes shape outside the Church.
Unbound will have a booth at the Los Angeles Religious Education Congress March 14-16 in Anaheim, Calif. For journalists attending the event, please stop by booth 484 or call Loretta Shea Kline at 816-377-4251. We look forward to the chance to meet you!
CFCA is our foundation. Unbound is our future.
Unbound distributes direct aid as quickly and efficiently as possible to people who need it. More than 93 percent of all the money Unbound spends goes to program support.