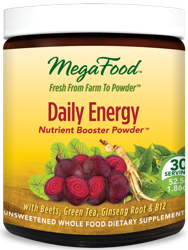 No added sugars, sweeteners, flavorings, preservatives or food coloring - so you can enjoy the benefits without compromise.
(PRWEB) March 10, 2014
"On Monday, March 10, 2014, MegaFood is releasing a new line of Nutrient Boosting powders that can be added to any drink. These powders will be focused on target areas like energy, inflammation, cleansing and immunity. We are very excited to be teaming with the MegaFood whole food supplement company as they bring these new products to the market," said Gail Bowman, owner of MegaFood Vitamins, an online health food store.
MegaFood is a pioneer in the natural products industry, being the first company to make vitamins from scratch, with farm fresh whole foods.
In a recent publication, MegaFood stated about their new nutrient boosters:
"Our Nutrient Boosters are made exclusively with wholesome nutrients, phytonutrient packed super foods and botanicals, each carefully selected for their exceptional nutritive and body-protective attributes. These powders contain no added sugars, sweeteners, flavorings, preservatives or food coloring.
"Daily Energy will feature B12 and Chromium, plus new Beet Root with additional energizing botanicals to promote energy levels and maintain already healthy blood sugar levels.
"Daily Turmeric will feature turmeric, black cherry and black pepper with Whole Orange Vitamin C to support healthy whole body inflammation response and recovery from exercise and stress.
"Daily Purify will feature cleansing foods, burdock root, dandelion root and artichoke with Farm Fresh Fruit Phenolic Blend and Reishi mushroom to support liver health and its process, and remove toxins from the body.
"Daily C-Protect will feature Vitamin C and Farm Fresh Fruit Phenolic Blend with immune supporting botanicals."
"This is a revolutionary idea in the whole food supplement industry," said Ms Bowman. "MegaFood has put Non-GMO, gently dried foods powder together in a way that anyone can just add them to their water bottle or anything the happen to be drinking, and they will get the great benefits of Phytonutrients. It is a great idea!"