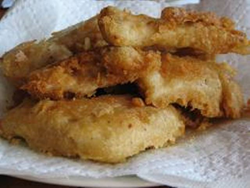 (PRWEB) March 08, 2014
Traditionally done with salt cod, bacalao is a deliciously salty and earthy potato and fish fritter. GetMaineLobster.com updates this recipe with fresh Maine haddock to lighten up the dish with its flaky texture and mild flavor.
Fried Haddock and Potato Bacalao works as an appetizer for cocktail parties or as a delicious snack, and is served best with chili or garlic aioli.
Ingredients include 1 lb Fresh North Atlantic Haddock; ¼ cup milk; 1 bay leaf; 1 lb potatoes, peeled; 1 ½ Tbsp dill, chopped; 1 ½ Tbsp mint, chopped; zest from 1 lemon; 1 egg; ½ red chili, minced; 2 ounces flour; 1 quart canola oil—enough to fry; salt and pepper to taste.
To prepare the haddock, preheat the oven to 375 degrees F. In a baking dish, place the haddock with milk and bay leaf, and season generously with salt. Cover with foil and bake for 15 minutes. Note: while the fish is cooking, start the potatoes.
Remove the fish from the oven and flake into a large bowl.
In a large pot of heavily salted water, bring the potatoes to a boil and cook for 15 minutes. Once cooked, drain the water and return to the heat to dry out the potatoes a little and then mash them.
Add potatoes, dill, mint, lemon zest, egg, chili and seasoning to the large bowl with the cooked haddock. Mix well and season to taste.
Using a clean work space sprinkled with a little flour, roll 1 Tbsp of mix into little football shapes.
When rolling into the shapes, it is important to have a little flour on palms of hands to prevent sticking and also to transfer the finished balls to a lightly floured sheet tray or plate. Once all of the mix is shaped, refrigerate for a bit to help them hold the shape.
Pour oil into a heavy duty pot for frying. Make certain that the oil is 1 ½ to 2 inches deep. Turn the heat to medium-high, letting the oil rise to 360 degrees. Working in small batches, fry the balls for 2 to 4 minutes or until golden brown. Transfer from the oil onto a paper towel-lined plate or sheet tray and season with an additional sprinkle of salt. Serve immediately with garlic, chili or citrus aioli. Enjoy!
About GetMaineLobster.com
GetMaineLobster.com, a division of Black Point Seafood and Black Point Gourmet, hand-selects the finest Maine lobster, seafood and beef products for convenient distribution throughout the United States. Their passion is to make fresh, quality seafood readily available to customers across the country, which is why they buy from only the most trusted, well-established suppliers to ensure that they receive the finest products available.
GetMaineLobster.com was selected out of the more than four million small American businesses served by Chase bank to represent its new Platinum Business Checking product for its 2013 national advertising campaign.