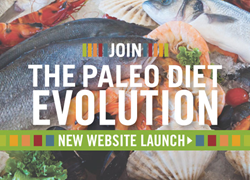 The new website provides the structure needed for discovery and connection among all Paleo followers.
Fort Collins, CO (PRWEB) March 10, 2014
Dr. Loren Cordain, the world's leading expert and founder of the Paleo movement, announced the launch of his revamped website http://www.thepaleodiet.com. This newly redesigned website offers visitors an immersive experience with easy navigation to vital information, including scientific research, literatures, books, and recipes. The Paleo Diet strives to be the number one source of trusted information to provide individuals with the most comprehensive resources, new to Paleo or veterans of the lifestyle.
The rich content has been refreshed and blended with elements that echo a clean, unprocessed Paleo lifestyle. With improved functionality and responsiveness, in addition to an enhanced eCommerce platform for seamless browsing, shopping, and accessibility, everything Paleo is at your fingertips.
"We are excited and enthusiastic about the launch," said Dr. Cordain. "Having written on so many topics that have not seen the light of day, the new website provides the structure needed for discovery and connection among all Paleo followers."
With the roll out of the new website, The Paleo Diet membership is the natural starting point for adopters. With the Paleo movement growing exponentially, The Paleo Diet Membership gives individuals the opportunity to access podcasts and rebranded issues of The Paleo Diet Insider, an autographed copy of Dr. Cordain's latest book, The Paleo Answer, with the added incentives of a complimentary digital subscription to Paleo Magazine and sample pack from The Paleo Diet Foods, exclusively endorsed by Dr. Cordain.
Topping Google Zeitgeist's Most Searched Diets last year and over a million visits to the site in January 2014, the new website will focus on delivering quality information to meet the demands of individuals worldwide both on an offline.
Visitors are encouraged to explore the website and sign up for The Digest for a free 3 Steps to Success from Dr. Loren Cordain at http://www.thepaleodiet.com/.
About The Paleo Diet, LLC.
The Paleo Diet, LLC provides a program of eating designed by Mother Nature's wisdom acting through evolution and natural selection. The New York Times bestselling author, Loren Cordain, Ph.D., Professor Emeritus, the foremost authority on the evolutionary basis of diet and disease, provides the most comprehensive understanding based upon extensive scientific research examining the types and quantities of food our hunter-gatherer ancestors ate. The Paleo Diet is the number one resource approached by over a million individuals worldwide. Please visit http://www.thepaleodiet.com.