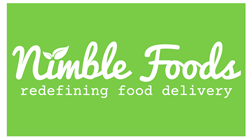 We know that you're busy but don't want to compromise a savory home-cooked meal. We'll take care of your wholesome meals so you can spend more time on the things that matter. - Kevin Cho, Founder and CEO of Nimble Foods
Austin, TX (PRWEB) March 11, 2014
Traditional food delivery takes about an hour, selections are limited and of course, who can forget the pesky delivery fees. Nimble Foods has officially entered the delivery food scene in central Austin. For $7, a Nimble Foods delivery driver will meet you curbside with a hot and wholesome meal. No delivery fees and no hidden charges. But the best part is that no pre-planning is required. Simply, order when you're ready and Nimble Foods will make it their goal to arrive within 20 minutes or less. Nimble Foods is an online meal-service business that prepares a daily rotating menu of hot meals created by their executive chef, Michael Jerez.
"We source our ingredients locally and organically as much as possible. These meals are then designed and created with ingredients we have for that day.," said Jerez. Chef Jerez has over 20 years of award winning, exceptional and impressive culinary successes, globally. Jerez's culinary accolades include "Chef of the Year" by the American Culinary Federation, as well as awards from Les Chaines des Rotisseurs.
"People are busy but they still want an affordable, delicious meal. Nimble Foods provides that home-cooked meal for those that don't have the time or energy to cook each night.," said Kevin Cho, founder of Nimble Foods. Each day, Nimble Foods prepares 2 menu items – one protein and one vegetarian option. Nimble Foods' customers can sign up for the daily rotating menu alert at nimblefoods.com.
Kevin Cho has always been part of the food industry. From managing a food manufacturing company that sprouted seeds and grains, to owning Coreanos, a food truck business named "Top 10 U.S. Food Trucks" and "#1 Food Truck in Texas" by Smithsonian, Cho is a foodie at heart. Coupled with Cho's trade in Business Management and Systems, Cho has built an efficient system that can process a high volume of distinct orders to ensure meals are prepared and delivered curbside almost immediately. "I've always worked a lot and had trouble finding cost-effective ways to get a delicious meal delivered quickly. There had to be a better way…"
The search for the better way was the inspiration behind Nimble Foods. As the company is growing, they are looking to satisfy the palate of Austinites. "We take customer service very seriously. We want to hear from our customers and make the necessary changes to ensure we are properly filling the need for Austinites."
Nimble Foods plans to expand their services to the greater Austin area, as well as operate from early lunch to late dinner hours. As Cho says, "We know that you're busy but don't want to compromise a savory home-cooked meal. We'll take care of your wholesome meals so you can spend more time on the things that matter."
Hungry Austinites can visit the Nimble Foods website, make their selection, place the order and expect the meal to be delivered curbside within 20 minutes. There is definitely a gap in food delivery and Nimble Foods plans on redefining food delivery, one delivered-meal at a time.
________________________________________________________________
SNAPSHOT:
Founder and CEO: Kevin Cho | Executive Chef: Michael Jerez
The Business: Online meal-service that quickly delivers handcrafted hot, wholesome meals from a daily rotating menu.
Founded: 2014 | Contact: PR(at)nimblefoods(dot)com
HQ: Austin, TX. | Employees: 10+ | Website: http://www.nimblefoods.com | 512.954.4586