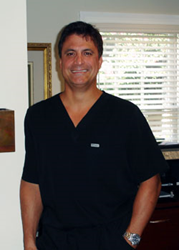 Durham, NC (PRWEB) March 07, 2014
People with periodontal (gum) disease are almost twice as likely to get coronary artery disease, according to the American Academy of Periodontology. Dr. Jason Cataldo now treats patients in the Durham, NC area with a laser gum surgery called the Laser Assisted New Attachment Procedure, or LANAP®. LANAP® utilizes an FDA cleared laser called the PerioLase® MVP-7™ that can remove diseased tissue and the bacteria that cause gum disease while stimulating bone growth to help save natural teeth.
Studies have found that gum disease is linked to heart disease and other serious health conditions. It has been shown that the bacteria responsible for gum disease can enter the bloodstream through sores in the mouth. Once in the bloodstream, the bacteria can travel to other organs, such as the heart, causing inflammation and damage.
Millions of Americans are suffering from gum disease, and it is a problem that has reached epidemic levels. Dr. Cataldo educates his patients to recognize symptoms of gum disease, like bleeding gums, and advises them of treatment options available such as laser gum surgery. LANAP® has become an ideal treatment option for many patients suffering with gum disease. There is minimal bleeding associated with LANAP® and most patients can resume their daily activities immediately after the procedure.
Given the mounting evidence that links gum disease to whole body health, Dr. Cataldo believes in offering the most technologically advanced treatment options to his patients. He urges patients to know their treatment options and seek care as soon as possible. For more about Dr. Cataldo or LANAP® visit his website at http://www.carolinaperioimplants.com and call (919) 724-4273.
About the Doctor:
Periodontics and Dental Implants of North Carolina is a periodontal practice offering personalized dental care for Durham, NC gum disease patients. Dr. Jason Cataldo attended college at the University Of Buffalo School Of Dental Medicine, completed a general practice residency at Michael Reese Hospital in Chicago, IL, and completed his periodontal training at Case Western Reserve University in Cleveland, OH. He is board certified in periodontology and Adjunct faculty at the University of North Carolina at Chapel Hill. Dr. Cataldo is part of one percent of dental professionals providing the LANAP® FDA cleared laser procedure for gum disease treatment. To learn more about Periodontics and Dental Implants of North Carolina and their dental services visit their website at http://www.carolinaperioimplants.com and call (919) 724-4273.