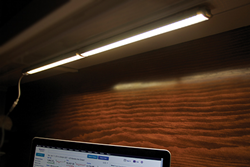 LUX high-performing LED task lights reduce energy usage while enhancing spaces with exceptional style
Santa Barbara, CA (PRWEB) April 04, 2014
Mighty Bright, designer and manufacturer of innovative LED lighting products, will present the LUX line of LED task and floor lights for the first time at High Point Market, April 5-10 2014, at the International Home Furnishings Center in High Point, NC. High Point Market, the largest furnishings trade show in the world, draws 75,000 people semiannually to High Point, the furniture capital of the United States.
LUX LED Lights by Mighty Bright is the contemporary solution for residential task lighting. LUX high-performing LED task lights reduce energy usage while enhancing spaces with exceptional style. Streamlined and sophisticated, LUX LED Lights are functional, eco-friendly and embody a simple aesthetic elegance, compromising neither form nor function.
At High Point 2014, Mighty Bright will introduce the new LUX Linear LED Undercabinet Light. Designed to sustainably illuminate residential work surfaces, the LUX Linear marries the latest in LED innovation and minimalist design. With full range dimming, an intelligent touch controller, and a wide illumination angle, the LUX Linear enhances visual comfort and productivity.
Visit Mighty Bright at High Point Market 2014
Visit space M335 in the Main Wing of the International Home Furnishings Center to see the complete line of LUX LED Lights by Mighty Bright.
About Mighty Bright
Behind every LUX LED Light you'll find Mighty Bright, designers and manufacturers of portable LED lights. We have taken our years of LED expertise and applied them to the LUX line to produce the most fashionable and energy-efficient LED lights for home and office on the market. And since LEDs provide thousands of hours of light, each purchase of a LUX Light is earth friendly. Contact Mighty Bright: 800.922.3233 or visit http://www.lux-led-lights.com.