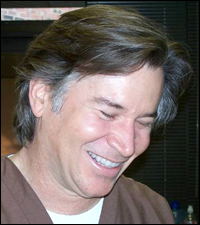 Austin, TX (PRWEB) March 08, 2014
David A. Baker, DDS not only performs gum surgery in Austin, he is educating patients on the ways that gum disease can cause other serious conditions in the body, from heart disease to pancreatic cancer and more. Dr. Baker now uses advanced laser surgery to achieve superior results in minimal time for patients with advanced gum disease. Perfect for people who avoided treatment of severe periodontal disease out of fear of the cutting and stitching needed for traditional gum surgery, the laser surgery Dr. Baker provides causes minimal bleeding and features a rapid recovery time.
The facts are clear that gum disease can cause health risks and impacts on other areas of the body. Numerous studies have shown that untreated gum infection contributes to increased risk of stroke, complications with diabetes, and even negative impacts on memory, cognitive and thought processes. The infection that lingers and grows in the mouths of millions of Americans who suffer with severe gum disease is able to travel through the bloodstream to the heart, brain, and other organs and cause damage.
Fortunately, a revolutionary laser gum surgery in Austin performed by Dr. Baker is able to eliminate gum disease in as little as one visit, with less side effects and complications that may be common with other types of gum surgery. The FDA-cleared and minimally invasive laser procedure that is guided by a computer to target the infection and diseased tissue is able to leave the healthy tissue intact. The heat of the laser even stimulates bone growth near the roots, leading to improved strength and longevity of the teeth after surgery.
To learn more about how healthy bodies rely on healthy mouths free of the gum disease cause of other conditions such as heart disease, visit Dr. Baker's website at http://www.davidabaker.net today. To learn more about the gum surgery in Austin and other procedures that Dr. Baker performs to improve the oral health of patients, call (512) 782-8422.
About the Doctor
Westlake Family Dental Care is a general practice offering personalized dental care for patients in Austin, TX since 1997. Dr. Baker received his dental degree from the University of Texas Health Science Center San Antonio Dental School and scored in the top two percent of the nation in Endodontics and Periodontics. He is part of one percent of dental professionals providing the LANAP® FDA cleared laser procedure for gum disease and periodontal treatment. Dr. Baker stays abreast of the dental techniques and technology by attending at least 30 hours of continuing education each year. In addition to LANAP®, Dr. Baker provides services such as fixed lower dentures, mini-implants, and TMJ. To learn more about Westlake Dental Care and their dental services, visit their website at http://www.davidabaker.net and call (512) 782-8422.