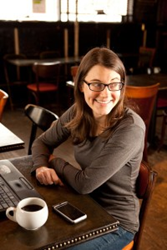 Doers are professional change-makers, hired to "do" what it takes to make a positive impact in their community, with no metrics for sales of any kind.
Seattle, WA (PRWEB) March 07, 2014
Many people will go out of the way to see their favorite actor, band or genre of music, but will choose a comedy show based only on which venue is closest. As a Comedy "Doer" at Brown Paper Tickets, Julie Seabaugh is a professional advocate for the comedy community, and she is trying to change the way America devours comedy. She attends comedy festivals around the world, publishes and curates critical analysis of performances at http://www.TheSpitTake.com, as part of her mission to elevate the public perception of comedy as an art form.
"Comedy is an artistic endeavor on par with music, film, literature or visual art," Seabaugh says. "Critical review that provides context and insight can show not only why some comedy is inarguably of higher inherent quality, but why it matters. I created the Spit Take to promote greater appreciation for the artistry and genius of comedy performances in the U.S."
Most major newspapers in the U.K. employ a comedy critic, whose work is given the same weight as professional reviewers of music, film, theater, literature, visual art, etc. In the U.S., print comedy coverage tends to be limited to an annual Comedy Issue, or rote and shallow, in a manner akin to a glorified calendar listing. "Very few publications take comedy reviews seriously, and none publish them very frequently," explains Seabaugh. "We are doing both."
The reviews on the site are contributed by some of the most respected comedy-loving journalists in the country. "I've always frowned upon the conflict of interest inherent when performers write about other performers," Seabaugh says.
Unlike many comedy-news websites, The Spit Take's list of contributors are regularly published in publications including Variety, New York Magazine, GQ, Rolling Stone, The Village Voice, Time Out NY, Las Vegas Weekly, The Denver Post, The Boston Globe, and they are all paid for their efforts.
The Spit Take is made possible as a result of Seabaugh's role with Brown Paper Tickets' community advocacy team, The Doers. Doers are professional change-makers, hired to "do" what it takes to make a positive impact in their community, with no metrics for sales of any kind. At the time they are recruited, Doers are asked to create a mission that will have transformational positive impact on their community. They are paid a full-time salary and are backed with a travel budget, fiscal and in-kind support to complete their mission.
"We find talented professionals who are already making a difference in their community or for their cause, and ask them, 'what could you achieve if you didn't have to worry about a living wage?,'" said Steve Butcher, CEO of Brown Paper Tickets. "Being a Doer is a dream job for those who really want to make a positive impact in their community. It's symbolic of our company's willingness to go the extra mile to help independent artists, comedians and any event organizer to be more successful."
Brown Paper Tickets is presenting an Official Comedy Showcase at SXSW on Monday, March 10 called "The Green Room With Paul Provenza." You will find Julie Seabaugh at the show. Visit her comedy community page at http://community.brownpapertickets.com/Doers/comedy.html.
About Brown Paper Tickets (http://www.BrownPaperTickets.com): Brown Paper Tickets is a socially conscious global leader in online ticketing and event registration services, helping people in 68 countries to plan, promote and sell out events. As a social innovator, the company donates 5% to charities with every ticket sold, supports a team of full-time community advocates, called "Doers," and still charges a ticketing fee that is lower than competitors. How do we do it? The dirty little secret in the ticketing industry is that it doesn't cost that much to ticket events. To learn more about the world's only Not-Just-For-Profit ticketing company, visit http://community.brownpapertickets.com/press/.