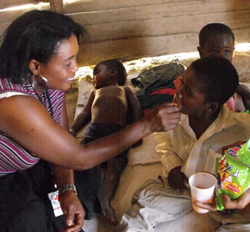 A major part of NF' s mission is to empower farming communities by making better tools and techniques available to them through our Goshen Farm project.
Ewing, NJ, 08638 (PRWEB) March 15, 2014
Trains still exist but airplanes have center stage. We recognize that traditional agricultural practices are still important to our societies today. However, we consider it necessary to find new strategies, new tools and new concepts to further advance the cause of socioeconomic change in Haiti. Our democracy will be stronger when our people are equipped to help themselves
Norigene Foundation is a native grassroots initiative established in Haiti and New Jersey after Norigene Jean passed away in 2006. He was 100 years old, a farmer with compassionate concerns for his community. Roselene Jean, daughter of Norigene, who resides in New Jersey is the founder. We support the handicapped children and adults across Haiti as well as poor farming villages where government services barely reach. So far we have successfully collaborated with The International Red Cross, Heart for Haiti Foundation, Rain Catchers Global and many other groups in several regions of Haiti.
A major part of Norigene Foundation's mission is to empower farming communities in Haiti by making better tools and technical knowledge available to them. We are excited about the prospect to establish the Goshen Farm as a teaching ground to help boost productivity in Thomonde. We are starting a farm with livestock and a variety of crops to generate assistance for vulnerable groups like the handicapped children and adults in that region.
The goal of this issue is to provide a succinct overview of our synergy platforms for socioeconomic change as well as insights into how cognitive diversity can help us shape a more sustainable future in rural Haiti. It is also to give you a chance to browse through our webpages for greater understanding of our vision via http://www.norigenefoundation.com.
We are making significant progress implementing the Goshen Farm project on one hundred and eleven (111.3) acres of arable land, but plan to get more acres in the future. We have cleared roads to access farming locations and we are consulting with our potential partners in North America. We are taking the steps and are confident that we will be victorious in our quest to bring better local food systems and food security to target communities.
Our board of leaders is behind us and we are adding some talented people to our team. Our Agronomist and International Director, Guy Buckmaster is examining our land to prepare a plan of execution this year, 2014. While we are making efforts on our own to have the minimum equipment on the ground, we need access to capital to invest in the acquisition of good modern tools, seeds and other accessories.
We draw from cognitive diversity to execute projects that will demonstrate appropriate techniques to achieve greater results. We care about the environment. Therefore we have embraced the "Each One Plants One" program and the promotion of coffee plantations in several regions in collaboration with Spirit Café.
Norigene Foundation invites members of the public to join forces by sharing their knowledge on a visit to Haiti, by making a tax free donation of farming equipment or by clicking on the blue "donate" button on http://www.norigenefoundation.com. It will lead to Heart for Haiti's Donate to missions page, just by a slight up scroll you will see NF's section.
You can also make Contact with us today today via the following numbers: 609-933-0724 or 609-851-6645 (USA) or norigenefoudation(at)yahoo(dot)com or 509-47169426(Haiti).
We invite you to like our Facebook page, follow our tweets and visit our website http://www.norigenefoundation.com for constant updates.
We can make a difference when we join forces with a good cause that stands on a true synergy for sustainable change.
God bless you, God bless Norigene Foundation's mission, God bless Haiti!
Louinel Jean (The Maximizer)
Vice President, Norigene Foundation
All Rights Reserved © Norigene Foundation LMJ 2014