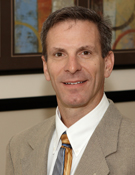 Richmond, Va. (PRWEB) March 09, 2014
Tidewater Physical Therapy is pleased to announce that Kevin Dintino, Regional Director of the Southeast and Central Virginia-based independent physical therapy practice's 12 clinics in Richmond, Va., earned his Doctorate of Physical Therapy through the Evidence in Motion Institute for Health Professions.
Dintino is a 1989 graduate of the University of Toledo and is recognized for his use of functional exercises and a variety of manual treatment techniques to help his patients.
Dintino's motivation to return to school after decades of success in the field of physical therapy?
"I wanted to augment my education to current standards," Dintino said, alluding to the fact that new physical therapists now come out of school with the doctorate-level education.
Dintino chose the Evidence in Motion program, he said, because of its "focus on private practice management."
As a Regional Director, Dintino spends part of his time treating patients and part managing the clinics in his area.
Tidewater Physical Therapy, established in 1986, has long supported the lifelong learning efforts of its staff, from completing additional collegiate-level education to hosting monthly in-services for its clinical staff, offering frequent continuing education courses in its clinics with nationwide leaders in physical therapy treatments.
TWEET THIS: Congratulations to TPTI's own Kevin Dintino on his DPT! #TPTI #PT
ABOUT TIDEWATER PHYSICAL THERAPY:
Founded in 1986, Tidewater Physical Therapy remains a physical therapist-owned, independent, outpatient physical therapy practice, with more than 30 locations across Southeast and Central Virginia and three Performance Centers.
For more information about Tidewater Physical Therapy, visit http://www.tpti.com. Learn more about the Tidewater Performance Center at http://www.tidewaterperform.com.
Physical therapists (PTs) are health care professionals who diagnose and treat individuals of all ages, from newborns to older adults, who have medical problems or other health-related conditions that limit their abilities to move and perform functional activities in their daily lives.
PTs examine each individual and develop a plan using treatment techniques to promote the ability to move, reduce pain, restore function, and prevent disability. In addition, PTs work with individuals to prevent the loss of mobility before it occurs by developing fitness- and wellness-oriented programs for healthier and more active lifestyles.
Physical therapists provide care for people in a variety of settings, including hospitals, private practices, outpatient clinics, home health agencies, schools, sports and fitness facilities, work settings, and nursing homes. State licensure is required in each state in which a physical therapist practices.
A Doctorate of Physical Therapy (DPT) degree is a post-baccalaureate 3-4 year degree which may be conferred upon successful completion of a professional doctoral program.