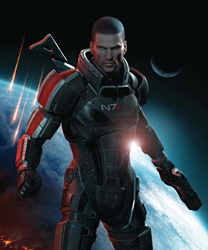 Stay tuned for more 'Gargoyles' and Mass Effect announcements in the coming weeks, as well as other exciting plans still in the works.
Denver (PRWEB) March 10, 2014
Denver Comic Con and Literary Conference (DCC), a program of Comic Book Classroom (CBC) designed to help promote literacy through pop culture, today announced it will feature programming from Disney's 1994 animated series "Gargoyles" and BioWare's popular video game, Mass Effect.
DCC will host a 20th anniversary reunion of many of the talents who worked on "Gargoyles" with actors Salli Richardson-Whitfield, Thom Adcox-Hernandez and series creator Greg Weisman. The con will also feature a Mass Effect session with Raphael Sbarge, Mark Meer and Kimberly Brooks with more guest additions coming soon.
"When we're booking guests for DCC we try to provide a little something for every attendee," said Bruce MacIntosh, chairman of CBC and director of programming for DCC. "Getting the 'Gargoyles' group together for the 20th anniversary and so many of the people behind Mass Effect provides synergy to the sessions we're providing. What's more, we're always looking to add to these synergies—stay tuned for more 'Gargoyles' and Mass Effect announcements in the coming weeks, as well as other exciting plans still in the works."
DCC has a complete and ongoing list of announced guests at its website, which includes notables such as Bruce Campbell of "Burn Notice" and "Evil Dead" and Michael Rooker from "The Walking Dead" in addition to today's announced guests.
"Gargoyles" 20th Anniversary Guests (to date)
Salli Richardson-Whitfield – In addition to voicing Elisa Maza in the Disney animation classic "Gargoyles," Salli is known to millions of fans as Dr. Allison Blake in SyFy's "Eureka." She's has appeared in more than 20 major motion pictures including: "I Am Legend" with Will Smith, "Antwone Fisher" with Denzel Washington, "Low Down Dirty Shame" with Keenen Ivory Wayans, and "Posse" with Mario Van Peebles. She is starring in two upcoming motion pictures, "Pastor Brown" and "We The Party." Salli has also appeared in dozens of popular television series, including "Criminal Minds," "Bones," "House, MD," "NYPD Blue," "CSI: Miami" and as Viveca Foster on "Family Law."
Greg Weisman – Greg is best known as the creator of "Gargoyles." He's also the supervising producer of "The Spectacular Spider-Man" and is the executive producer on the highly-anticipated new animated Disney XD series, "Star Wars Rebels," premiering in the fall of 2014. Weisman has also worked as producer on the "Young Justice" animated series, wrote the script for "DC Showcase: Green Arrow," an animated short feature that is included on the DVD for the film, "Superman/Batman: Apocalypse." Greg's first novel, "Rain of the Ghosts" was released on December 3, 2013.
Thom Adcox-Hernandez – Thom is known for his voice work in "The Twisted Tales of Felix the Cat" and "Young Justice: Legacy," and of course, as Lexington in Gargoyles. In addition to voice acting, Thom is known for his roles in "Under Siege 2: Dark Territory" and the prime-time soap opera, "Falcon Crest."
Mass Effect Guests (to date)
Raphael Sbarge – Raphael's video game work extends beyond Mass Effect, in which he plays Kaidan Alenko in Mass Effect and its sequel Mass Effect 2. He's also done voice work for the video games Star Wars: Knights of the Old Republic, Star Wars: Knights of the Old Republic II: The Sith Lords as Carth Onasi, as RC-1262 "Scorch" in Star Wars: Republic Commando.
Raphael began his acting career on "Sesame Street" at the age of five, but most recently he can been seen on ABC's "Once Upon a Time" as Dr. Archie Hopper/Jiminy Cricket. Additionally, Raphael voiced the character Professor Zei in a guest-star appearance on the thirtieth episode of Nickelodeon's "Avatar: The Last Airbender."
Raphael, Ed Begley, Jr. and Rachelle Carson Begley launched an environmentalist non-profit called Green Wish that funds local, green organizations through customers' small donations at local retailers.
Mark Meer – Mark voices Commander Shepard in the Mass Effect games as well as in a number of other games from BioWare Corp., notably the Baldur's Gate and Dragon Age series. Meer also works in animation, providing the voice for characters in a series of cartoon shorts produced by Rantdog Animation Studios.
Kimberly Brooks – Kimberly has been working in video games since the mid-1990s. In addition to voicing the role of Ashley Williams in Mass Effect, she also appeared in Dragon Age: Origins and voiced characters in Batman: Arkham Asylum and Batman: Arkham City. Kimberly is also known for her animation voice acting, including several parts in "Ben 10 Omniverse" and "Ultimate Spider-Man."
For more information about Comic Book Classroom or Denver Comic Con and to purchase tickets visit http://www.ComicBookClassroom.org or http://www.DenverComicCon.com.
About Denver Comic Con
Entering its third year, the Denver Comic Con (DCC) is Denver's premiere pop-culture fan experience, covering the worlds of comic books, film, and related media. It is also an extension of and an awareness builder for its parent organization, Comic Book Classroom. For the latest news and information, visit http://www.denvercomiccon.com.
About Comic Book Classroom
Comic Book Classroom (CBC) is a charitable organization that educates through alternative approaches to literacy, learning, and character development. CBC creates programs for underserved students, schools and communities via comic books, graphic novels, and related media. CBC is the organizer and producer for the DCC. http://www.comicbookclassroom.org.
###
Media Contact:
Jason Jansky, DStreet
jjansky(at)dstreetpr(dot)com
(303) 748-3300