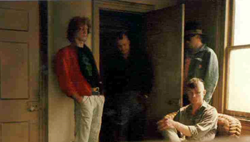 Progressive rhythms, crazy dynamics, high voltage, dirty guitars, poetic lyrics, abstract singing with their rebellious rock and roll spirit. This summarizes Groupoem and its new release "Dirt Church". - Indie rock music reviewer Heroicdose.
Vancouver, British Columbia (PRWEB) March 19, 2014
Vancouver-based indie alternative rock band, GROUPOEM, just released its 19-song album of their original music. The title of the band's first published music since 1988 is titled, "Dirt Church".
Almost 30 years ago, the band toured the United States in the summer of 1987. The band's songwriting and musicianship, lead by songwriter/guitarist Terry Robinson, was so unique, so combustible, it could only explode with success, or self-destruct.
Unfortunately for Groupoem's legion fans, the band split up in the fall of '87 after the tour, and the four musicians scattered into other bands including Detroit's Forced Anger, and Toronto's BFG and Guilt Parade, and Marph's Mr. Science and Cursed Gerald.
Fast forward to 2013, all four band members found themselves living in close proximity to one another in Vancouver, British Columbia. Bass player Darren Katamay, guitarist Terry Robinson, drummer Chris Lee and vocalist Marph reunited and began working on all new material. The band scratched together enough funding to go into Vancouver's legendary The Farm Studios (http://thefarmstudios.com), Vancouver, B.C. recording with famed Sound Engineer Tim Crich and recorded four new songs, the foundational work for a new album.
Now, with the release of "Dirt Church", Groupoem hopes to reconnect with its fans from 1987, and inspire an entire new generation of alternative rockers around the world. In his review of "Dirt Church", Brett Buchanan of Alternative Nation proclaimed, "Groupoem's Awesome Dirt Church Has Nirvana's Bleach Heaviness & Pixies". Read the full review here: https://www.alternativenation.net/review-groupoems-awesome-dirt-church-nirvanas-bleach-heaviness-pixies-spirit/
Click to listen to Groupoem's new album at http://groupoem-band.com/music/