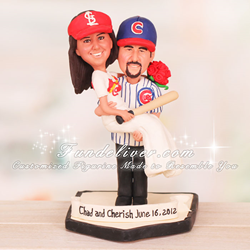 (PRWEB) March 08, 2014
Recently, UniqueWeddingCakeToppers.com, a renowned cake topper manufacturer and retailer, has stated that all its custom cake toppers are offered at affordable prices. Also, the company has listed some of its hottest designs (like baseball wedding cake toppers, bride giving groom piggyback ride cake toppers and fireman climbing cake saving bride cake toppers) at its website.
Also, the company has updated its product line and simplified the purchasing process. For customers who are planning to buy special items for their weddings, UniqueWeddingCakeToppers.com is a great place. Its top experts insist on using grade-A materials only.
"We are ready to make custom cake toppers anytime. We can create unique toppers in a short period of time. Owing to our high quality toppers and excellent services, our company has become one of the leading brands in the market. Being confident of our skilled workers, I highly recommend our figurines for worldwide newlyweds," the CEO of the company says.
It is worth mentioning that UniqueWeddingCakeToppers.com offers amicable services. Its makers will send all the progress pictures to buyers throughout the process. The company has promised all people will be pleased with the product design and quality. What's more, all its delivered products are packaged in keepsake boxes.
About UniqueWeddingCakeToppers.com
UniqueWeddingCakeToppers.com is a famous online supplier of vivid cake toppers for weddings, birthday parties, going away parties and many other events. With an aim of making the events more interesting and memorable, the company often offers great savings on its special products. At its online store, customer satisfaction is among the top priorities.
More details about its funny items can be found at http://www.uniqueweddingcaketoppers.com/.