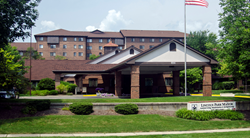 Kettering, Ohio (PRWEB) March 08, 2014
Russ Holtz, Executive Director of Lincoln Mark Manor, is proud of the 2014 survey results and is honored with the overall 5-Star rating from Medicare. Holtz states, "We have maintained this outstanding accomplishment for the second consecutive year. We understand the importance of having an amazing, caring team of staff members who continue to play a key role towards this distinction year after year."
Lincoln Park Manor has served residents and their families for the past 25 years and has become a trusted neighbor within the city of Kettering and surrounding areas.
If you would like to learn more or take a tour of Lincoln Park Manor, located at 694 Isaac Prugh Way in Kettering, OH 45429, please contact Ann Wittoesch, Admission Director, at (937) 297-4300 or ann.wittoesch(at)mvg(dot)com. For more information, please visit LincolnParkSeniors.com.
About Miller-Valentine Group
Since our founding in 1963, Miller-Valentine Group has been dedicated to quality, value and service. Our vertically integrated companies offer total real estate solutions in the areas of Design/Build Construction, Development, Management, and Financing for both residential and commercial markets. They also provide Renovation, Brokerage, and Leasing services for commercial markets. All of Miller-Valentine Group's divisions have combined to provide customers with more than 13,000 residential housing units and over 50 million square feet of commercial space.
Miller-Valentine Group develops real estate in the Midwest, Southeast, and Southwest regions of the country, with offices in Dayton and Cincinnati, Ohio, Columbia and Charleston, South Carolina, Ft. Worth, Texas and Miami, Florida. As an industry leader they offer a wide range of residential products, including multi-family, single family, military housing, active adult, independent and assisted living, as well as skilled nursing communities. The company also offers a vast array of commercial products, including office, retail, lodging, healthcare, manufacturing and distribution facilities.