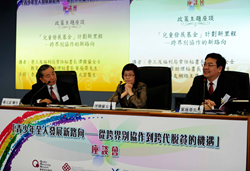 (PRWEB) March 10, 2014
Over 100 concerned stakeholders attended the symposium "New Directions for Whole-Person Development of Young People: Inter-sector Collaboration to Resolving Intergenerational Poverty" held at The Hong Kong Polytechnic University (PolyU) on 1 March 2014 to explore the problems of intergenerational poverty on youths and the possible solutions.
The symposium was organized by PolyU's Network for Health & Welfare Studies in collaboration with Hong Kong Quality Mentorship Network (QMN) and Child Development Matching Fund (CDMF). It was attended by principals from 50 primary and secondary schools as well as the senior management from various social welfare institutions.
Miss Annie Tam Kam-lan, Permanent Secretary for Labour and Welfare Bureau and Chairman of CDF projects, and Mr Ip Yin-rong, Chief Assistant Secretary (Curriculum Development) of the Education Bureau briefed the attendees on "New Development of the 'Child Development Fund' (CDF) Projects ─ New Directions in Policy with Inter-sector Collaboration." They encouraged schools to utilize existing school-based resources, including the Quality Education Fund, to create a favourable environment for project operation.
School principals from current school-based CDF pilot projects were invited to share their experiences in developing sustainable models of the projects. Mr James Lam Yat-fung, Prinicpal of Lions College, Dr Ng Yeung-ming, Principal of Yan Chai Hospital Law Chan Chor Si College and Dr Yuen Pong-yiu, Principal of Tin Ka Ping Secondary School shared their views on on parent education, moral education, and the building of sustainable models of CDF projects respectively, highlighting the diversity and feasibility of the school-based model.
In the latter part of the symposium, Mr Mark Leung, Chief Manager of QMN, introduced various supporting services for the school-based CDF projects. Dr Simon Lai, Research Associate of PolyU's Department of Applied Social Sciences, demonstrated the functionalities of the "Quality Projects Data Management System" which enables NGOs and schools to effectively record and manage mentorship data and generate reports for submission to the Social Welfare Department.
About The Network for Health & Welfare Studies of PolyU
The Network for Health and Welfare Studies (the Network), Department of Applied Social Sciences of PolyU continuously develops and works on topics of community health promotion, alleviation of intergenerational poverty, positive development and learning, and social neuroscience. Through bringing together related resources and capacities of academic, community and the government to build alliance and platform, the Network facilitates research and academic work on child and youth development, community collaboration and effective model building, and brings successful outcomes back to the society. For more information, please visit http://www.apss.polyu.edu.hk/nhws/index.php.
About Hong Kong Quality Mentorship Network
The "Hong Kong Quality Mentorship Network" (QMN) is a non-governmental organization established by leaders from fields of business, social welfare and education. QMN has a vision to promote caring-adult culture through encouraging adults to devote time and resources for the positive development of youths. Services provided by QMN include developing and organizing quality mentorship training courses, seminars and workshops, establishing and developing the first knowledge management e-platform, recruiting mentors, providing consultation services for companies and organizations etc. For more information, please visit QMN's website at http://www.qmn.hk.
About Child Development Fund
The HKSAR government adopted the former Commission on Poverty's suggestion and accepted $300 million grant from the Legislative Council Finance Committee to establish the "Child Development Fund" (CDF) projects in April 2008. CDF aims to help children from disadvantaged background build developmental assets, thereby soothes intergenerational poverty. CDF projects have three key components: personal development plan (PDP), mentorship programme and targeted savings, and each batch of the CDF projects lasts for three years. Target participants are children of age 10-18 from disadvantaged families. For more information, please visit CDF's website at http://www.cdf.gov.hk.