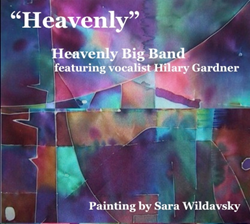 The Art Lillard Heavenly Big Band is about creating a lush, lyrical, and personal sound, with very individual musicians playing and dancing together as though we were of one mind"~ Art Lillard
(PRWEB) March 10, 2014
Art Lillard joins the tribe of those whose livelihood was severely affected by superstorm Sandy.  If it weren't for his dedication to his music he wouldn't have found the perseverance to forge ahead through the hardships of being a victim of a tragic storm.  Having to deal with everything from water-damaged sheet music to total upheaval of his music studio, Art saw that help was in order, hence launching a crowd-funding campaign through Indiegogo to be a rescue to reviving his current CD project, "Certain Relationships."  The Jazz Network Worldwide was the first stop along the journey, offering a sneak peek of Art's composition "Heavenly" featuring his Heavenly Big Band and vocalist Hilary Gardner.
 
Art Lillard is a mainstay on the jazz scene, having performed with jazz luminaries such as Ira Sullivan, Jaki Byard, Gilly Coggins, Junior Cook, Kenny Davern, Joe Diorio, Bobby Forrester, Eric Gunnison, Greg Hopkins, Paul Horn, Nancy King, Cecil McBee, and Arturo O'Farrill, just to name a few.  In addition to leading several jazz ensembles of his own, Art has led a rich career as a sideman in groups of various musical genres, from jazz, country & western, and cabaret to rock and show music.  
 
"After learning about the 'comeback trail' that Art bounced back from, it was mandatory that The Jazz Network Worldwide embrace this human interest story of 'beginning again' through his sincere dedication to his 'art'.  The tune 'Heavenly' is a perfect sneak peek as the precursor to the upcoming release, with the lyrical content addressing a 'positive note,' that in looking forward how life can be 'heavenly' after being struck with misfortune from a natural disaster," says Jaijai Jackson of the Jazz Network Worldwide.
 
"This band is my passionate endeavor. Besides leading the band, I compose and arrange much of the repertoire. I choose my musicians from New York City's highest caliber instrumental and vocal jazz artists. Over the years I have fine-tuned my craft to shape the output of this band into a world-class musical statement.  The Art Lillard Heavenly Big Band is about creating a lush, lyrical, and personal sound, with very individual musicians playing and dancing together as though we were of one mind", says Lillard.  
 
Superstorm Sandy created setbacks of loss on every side that needed immediate addressing, which resulted in financial loss and the momentum this project had originally carved out.   The Indiegogo crowd-funding campaign seemed to be a light at the end of the tunnel.  In order to complete this musical project by the projected date of January 2015 it became imperative that this campaign http://igg.me/p/701467/x/6567747 find its 'dancing shoes' for there is a large budget to be covered in order for "Certain Relationships" to be presented and distributed into the worldwide marketplace.  
 
Art has written hundreds of compositions in a wide range of musical genres and is regularly commissioned by performers, producers and other composers to arrange music for vocalists and instrumental groups.   His compositions have been recorded by guitar/sax duo Pere Soto & David Valdez, vibraphonist Gust Tsilis, vocalist Larry Browne, saxophonist Claire Daly, flutist Jan Leder, and the band Groovalaya.
 
Art also wrote and scored the soundtrack for a film, "The Wannabees." Some of his compositions can be heard on episodes of the MTV productions, "Jackass" and "Cat House," and on HBO's "True Blood," as well as a commercial for Mercedes Benz.  The On Time Band released "It's Time," on Summit Records in 2009.
Be sure to come by The Jazz Network Worldwide (http://www.thejazznetworkworldwide.com) to catch the feature and to purchase and learn more go to Art Lillard's official website at http://www.artlillard.com.