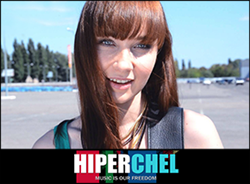 Music is our freedom
Cherkassy, Ukraine/Nashville, Tennessee (PRWEB) March 10, 2014
Out of the chaos in Ukraine, a new independent recording artist has gone viral and caught the attention of hit-makers in Nashville, Tennessee. The song "I Woke Up Famous Today" by Ukraine's indie band HIPERCHEL has generated hundreds of thousands of YouTube views without the traditional hype and support of a large record company.
Discovered by artist manager and music author Michael Moore (who has promoted top-selling recording artists such as The Clash, Merle Haggard and Michael Jackson), HIPERCHEL has been introduced to one of the top audio engineers in America, Pat McMakin (Director of Operations at Ocean Way Studios Nashville).
Having become a fan himself, McMakin has invited the band HIPERCHEL to record a full length album at Ocean Way, where many of today's top albums are produced.
To bring this amazing opportunity about, the HIPERCHEL team has launched a crowd-funding campaign on Indiegogo and has received contributions from all over the world. People from everywhere are digging in to help HIPERCHEL fund this record in the face of Ukraine's turmoil.
As HIPERCHEL's lead singer Lidiia says… "Music is our freedom!"
You can find out more at http://igg.me/p/hiperchel-recording/x/6343857.