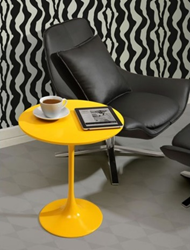 Accent tables come in all sizes, shapes, and colors, and are generally petite enough to be placed just about anywhere.
(PRWEB) March 12, 2014
HomeThangs.com – the Online Home Improvement Store – has made their goal to deliver the right product to the consumer. With that in mind, shopping and home design tips, as well as special product selections are being introduced.
Decorating with a base of simple, neutral colors is one of the best ways to make a flexible, customizable space. Major purchases should be the canvas not the decoration, allowing smaller, less expensive items to take center stage. In a very simple, neutral space, just a little pop of color will make the space sing. HomeThangs.com has introduced a guide to using colorful accent tables to do exactly that.
The effect of putting a bright, colorful accent table in a neutral-on-neutral living room is twofold. First, it's a large enough piece to add a decent amount of color to the space, and will stand out like a punctuation mark. Bold colors demand attention, and when the rest of the color scheme is neutral, a single instance of a bright color will make the eye see the rest of the space differently. Every additional instance of that color – no matter how small – will guide the eye through the room, creating an assertive color scheme out of just a few colorful items.
A single vibrantly colored, visually arresting piece can really tie a room together. Changing out curtains, buying a new rug, adding a vase of cut flowers or a live plant, and swapping to different colored throw pillows are all great ways to scatter color throughout the room, but an actual piece of furniture like an accent table has a slightly more permanent feel that visually anchors all those smaller pieces.
Accent tables are also relatively inexpensive. They aren't as cheap as a new afghan, of course, but are certainly more affordable than a new sofa or recliner, and are one of the least expensive pieces of actual furniture, and replacing furniture rather than just an accessory can really change the appearance and energy of the space.
Accent tables come in all sizes and shapes, but are generally petite enough to go just about anywhere, and are very easy to move or exchange. There are few places in a living room where adding some kind of small table, chest, or cabinet wouldn't be appropriate, which makes an accent table not only a great way to add color, but also the perfect way to change up the layout of the space, even if there isn't much room to move the larger pieces.
A really great accent table isn't just colorful, it's also visually interesting. In fact, accent tables don't necessarily have to be tables at all. Any unique, ornamental object that's about the right size and shape can be used as a table, but the more unusual the object, the more eye-catching it will be.
By extension, it's sometimes worth the time and energy to look first for a piece that's interesting rather than one that's necessarily colorful (or even necessarily a table). There are plenty of cool options out there for purchase, but for those who are a little more crafty, often the real gems are mixed in among cast-offs, at second hand stores or flea markets. A simple coat of paint or even a set of wood legs can turn an ordinary item into a gorgeous accent for less than the cost of a less personalized table from a big name designer.
For more ideas on how to dress up a living space with colorful accent furniture, check out the full article here.
HomeThangs.com is not only a home improvement superstore, it also provides expert design tips and a comprehensive shopping guide, taking the ideas from professional interior designers, and offering tips to the consumers on how to pick the products to best suit their needs.