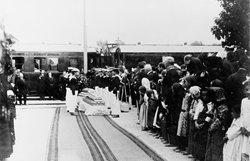 World War 1 still has consequences 100 years later; these journeys to Sarajevo from Vienna in today's Imperial Train have a resonance in 2014 unequalled by any other rail experience.
Chippenham, Wiltshire (PRWEB UK) 10 March 2014
The Luxury Train Club is remembering the assassinations on 28 June 1914 of Archduke Franz Ferdinand and Archduchess Sophie Duchess Of Hohenberg of the Austro-Hungarian Empire with journeys on the Majestic Train de Luxe between Vienna and Sarajevo.
The Majestic Train de Luxe is a facsimile of the Imperial Train of Emperor Franz Josef, which was the favourite form of transport for his beloved wife, the Empress Elisabeth, known and loved as Sissi. The Imperial Train was sent to Sarajevo to convey the coffins of their son and daughter-in-law, the Archduke and Archduchess, back to Vienna.
Tragic as these unnecessary murders were, the Archduke being a reformist and supporter of minorities within the Empire, they led on to the carnage of World War 1, and 16 million more deaths.
The Majestic Train will commemorate the centenary of the assassinations by operating two tours between Vienna, Austria, and Sarajevo, Bosnia and Herzegovina, one of 5 days and the other of 6 days.
The 5 day journey (Group A) leaves Vienna's Meidling Station on Thursday 26 June and travels via Vienna Neustadt and Graz to Zagreb. Here, there is a welcoming brass band and reception, before passengers travel on to the Hotel Regent Esplanade for the night.
The following morning, the train departs for Sarajevo, arriving to another musical welcome, as well as a folklore performance. Overnight is in the Hotel Holiday.
Saturday 28 June is the 100th anniversary of the assassinations. There will be a programme of events that culminate in a private concert by the Sarajevo Philharmonic Orchestra in front of the historic ruins.
Sunday sees the train travel along one of Bosnia's most scenic rail routes to Mostar, where there is a folklore show on the historic bridge, and other events, before returning to Sarajevo.
On Monday June 30, there is a tour of Sarajevo and a traditional 1,001 Nights folklore performance before a flight back to Vienna Schwechat from Sarajevo Airport.
The 6-day journey is in reverse, with additional time on Sarajevo.
These unique all-inclusive tours start from €1,914, with a discount available for Luxury Train Club Members. Membership is free, with a subscription to the monthly newsletter.
Simon Pielow of the Luxury Train Club says, "World War 1 still has consequences 100 years later; these journeys to Sarajevo from Vienna in today's Imperial Train have a resonance unequalled by any other rail experience."
About the Luxury Train Club:
Contact: Simon Pielow, http://www.luxurytrainclub.com, info(at)luxurytrainclub(dot)com, +44 (0)1249 890 205
The Club gives the public rates on all listed trains, and then reduces them for Club Members by applying a 'Member Special' 2.5% discount on every journey, as well as passing on any available offer from the train. The Club also shows appreciation for every booking over £500 / USD $850 / EUR 650 with a thank-you gift.
The Club website has details of offers from trains around the world, including Early Bird Booking Offers, some specifically for Members.
Discounts:

2.5% discount off the price of any journey on the Club website
Discounts are applied on final or full payment and are per suite
Club discounts are in addition to offers from the train companies
Thank You Gift varies from time to time. It is sent to the lead passenger for the reservation. Current gifts include one of the following:

Gift from Osprey London, something from their range of small leather goods
Gift from Noble Isles, a travel item from their range of bath and body products