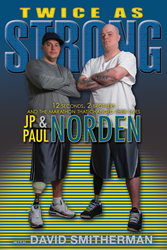 Ma, I'm hurt real bad and I can't find JP.
(PRWEB) March 10, 2014
Paul and JP Norden have partnered with writer David Smitherman to tell the story of their harrowing experience at the Boston Marathon on April 15, 2013. The brothers were waiting with Paul's girlfriend, Jacqui, for a buddy to cross the finish line when the first explosion occurred just a few yards away. As they scrambled to help Jacqui to safety, the second bomb went off right beside them, exactly 12 seconds later.
That event sent the Norden family into a downward spiral after the matriarch, Liz Brown-Norden, received a call from Paul as he was being loaded into an ambulance, "Ma, I'm hurt real bad and I can't find JP." The phone went dead before she got any more details. Without knowing what had happened, she frantically searched the Boston hospitals for her son, and for clues to the whereabouts of JP.
"Twice As Strong: 12 Seconds, 2 Brothers and the Marathon that Changed Their Lives" (Palari Books, ISBN 9781928662285) tells the story of how the brothers ended up at the marathon, and the lengths their family went to in order to locate them among the chaos that erupted on that fateful day. The book follows the Norden family as the two brothers fight to regain their strength and learn to walk again, while also dealing with the sudden media attention that was thrust upon them. The book will be available on April 1, 2014.
Writer David Smitherman conducted interviews with the entire Norden family and other key players to present a cohesive picture of what that day was like and how it continues to affect many in the Boston area.
Paul and JP Norden are eager to share their story through appearances and book signings as they continue to cope with their lives as amputees.