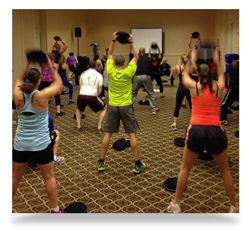 SIMPLE. Personal Trainers want to learn and put their education to use to get earn more and get clients results without major time and money commitments.
Austin, TX (PRWEB) March 10, 2014
Hyperwear today announces its new SandBell personal training workshop and online community for fitness professionals and enthusiasts of its innovative line of functional fitness products. Responding to the needs of personal trainers for practical and low cost education options to help them be successful, Hyperwear begins with the introduction of a 4 hour SandBell Level 1 Workshop for under one hundred dollars.
At the same time, Hyperwear Community, a new interactive social online resource for ongoing education goes live. With a membership in Hyperwear Community, personal trainers and consumers will have access to a platform hosting video exercise content and for interacting and sharing tips and information about exercises, workout programs, and personal training business tips and best practices.
To kick off the new live workshops, Hyperwear has scheduled its first SandBell Level 1 Workshop on Saturday, March 22nd, from 2pm to 6pm at the beautiful Omni Barton Creek Resort in Austin, Texas. At a special introductory price of only $49.99, each participant will also receive access to Hyperwear Community for one year for free, a manual, and tee shirt.
Said Hyperwear CEO Denver Fredenburg: "We took the time to listen to health clubs, fitness studios and personal trainers about the overwhelming number of lengthy and expensive certification workshops limited to individual products. Facilities, trainers and consumers all have one simple need and that is to get up and running quickly with effective, safe and results driven education. Expensive and long certification programs are secondary. By packaging an intense but short 4 hour live workshop with ongoing access to additional online education that is social and interactive, Hyperwear has re-invented the model for professional education much the same way we approach fitness product innovation: simplicity is the key."
In March and April, Hyperwear will be at two major fitness industry events where more information will be available about the Hyperwear Community Platform and its SIMPLE. POWERFUL. GEAR. See Hyperwear at the IHRSA trade show booth 4744 in San Diego March 13th and 14th and at IDEA PTI West in Seattle April 10-13th.
About us: Hyper Wear Inc. was founded to bring innovative products to market in the areas of fitness, health and wellness. Its innovative products include the Hyper Vest® PRO weight vest, SandBell® sandbag free weights, SteelBell® steel shot filled weights, and SandRope™ battle ropes. Men's Health Magazine described the Hyper Vest as "the best" weight vest, and the non-profit American Council on Exercise (ACE) awarded the Hyper Vest weighted vest its highest five-star rating in an independent review. Hyperwear's products have also been recommended by or featured in Women's Health Magazine, Prevention Magazine, ESPN Magazine, Muscle and Fitness, Men's Fitness, Shape, the Dr. Oz Show, and the Biggest Loser. More information is at http://www.hyperwear.com or call toll free 888-460-0628.