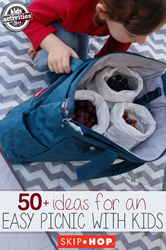 Try a lasagna cupcake or hand pies at the next picnic.
Dallas, Texas (PRWEB) March 11, 2014
Picnics are fun for everyone. Fun picnic tips and easy preschool science experiments have been published on Kids Activities Blog. Get ready for easy tips and ideas from seasoned Moms.
Picnics can be fun for the entire family. Before planning for the next picnic, check out the easy to do fun ideas from seasoned Moms.
The many ideas include winter picnic tips, teddy bear picnics, family movie night picnics, and tailgate picnics. Picnic essentials include tin cans, cup holders, and a wide variety of snack holders.
Perfect picnic ideas for family lunches include salad ideas in a cup, hand pies, lasagna cupcakes, hand pies, and roll-up sandwiches. Power picnic ideas include fruit salads in a cone, and snack food on skewers.
Preschool science experiments are perfect for three or four year old aspiring scientists. Among the many ideas are candy science experiments, growing crystals on rocks, and lime juice and baking soda experiments that can turn into masterpieces. Frozen bubble experiments and color changing milk activities top the list.
Let the kids rescue dinosaurs out of frozen ice with salt. They will love this experiment that combines action with science.
For detailed instructions and to get additional fun ideas, check out Kids Activities Blog this week. Come get inspired to have blast this spring together with the kids.
About Kids Activities Blog
Kids Activities Blog is a website created by two moms (who collectively have 9 children), Rachel Miller and Holly Homer from June Cleaver Nirvana. It is their daily goal to inspire parents and teachers to play with kids. This interactive website publishes simple things to do with kids twice a day. Kids Activities Blog is a great tool for moms and teachers to find kid-friendly activities that create memories and sneak learning into the fun.