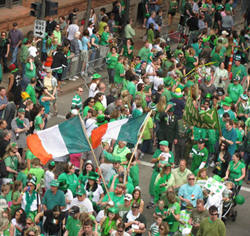 Whenever a large crowd gathers, it poses safety risks...
Neptune, NJ (PRWEB) March 13, 2014
With many celebrations planned for St. Patrick's Day 2014, NJ fire safety company All Hands Fire Equipment has some suggestions to help keep celebrations safe and fun. Donald Colarusso, CEO and founder of All Hands Fire weighed in on the topic of fire safety during parades and nightclub celebrations.
"St. Patrick's Day parades will be happening in a number of cities all over the country on and around March 17th and as a result, thousands of people get together to celebrate. Whenever a large crowd gathers, it poses safety risks. Most cities organize parades with fire safety in mind, ensuring access to fire hydrants, designating emergency access routes, using fire resistant parade float decorations, requiring fire extinguishers, and following other recommended guidelines…but people attending parades should be vigilant about watching for any safety issues, too."
St. Patrick's Day Parades Planned Throughout NJ
http://www.st-patricks-day.com/st_patricks_day_parades_united_states_new_jersey/ is one resource that lists many different St. Patrick's Day parades in the state of New Jersey. Events in the evening throughout the weekend leading up to as well as the 17th of March.
Nightclub Safety on St. Patrick's Day and Learning from Station Nightclub Fire
"Nightclubs are another area that see a large volume of patrons and potential for safety issues on St. Patrick's Day," says Mr. Colarusso, "Nightclubs and pubs need to adhere to occupancy guidelines, to reduce chances of difficulty getting out of a building during a fire, and they need a safety plan as well as operable fire safety equipment. With the recent 11 year anniversary of The Rhode Island Station Nightclub Fire fresh in our minds, it's a reminder to ensure your fire safety protection equipment is compliant. Remembering that 100 lives were lost in a nightclub event is sobering for nightclub owners."
All Hands Fire would like to thank firefighters and emergency response personnel for their hard work on St. Patrick's Day and all year long.
About All Hands Fire Equipment:
All Hands Fire Equipment was founded by a 25+ year firefighter. The family-operated company offers NY and NJ fire safety equipment as well as training and consulting services.
Contact information:
All Hands Fire Equipment
506 Atkins Avenue
Neptune NJ 07753
Email: sales(at)allhandsfire(dot)com
Follow All Hands Fire Equipment on Facebook at http://www.facebook.com/AllHandsFire and on Twitter: at http://twitter.com/allhandsfire
###