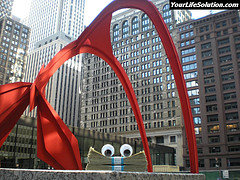 Paying an extra $10 for a plane ticket so you can have a few hours of life insurance is roughly the equivalent of paying $2000 a month for accidental death insurance. This insurance product is the lottery ticket of life insurance policies
Chicago, IL (PRWEB) March 09, 2014
YourLifeSolution.com, a website that provides consumers with instantaneous competing life insurance rates, has just released their list of what they believe are the five most questionable and unworthy insurance products. This list was developed by Eric Smith, the founder of YourLifeSolution.com. "'The Guardian' did a fantastic and objective piece on this subject, MSN and several other media outlets essentially just phoned in their articles on the most questionable products. The lesser consumer advocates through ideas like child life insurance and premium car insurance under the bus rather than attacking products that are analytically without any real value", said Eric Smith.
YourLifeSolution.com's List of Five Most Dubious Insurance Products
Terrorist Insurance/Terrorism Insurance
YourLifeSolution.com cites data from last decade showing that a person's chances of being killed or incurring property damage from a terrorist attack is less than 1/10 the chance one will be struck by lightning. "With exception to suicide and fraud, both exclusions which are universally waived by the incontestability clause after two years of coverage, life insurance is essentially a bullet proof death benefit, to purchase a supplementary insurance product to protect against the costs of something that is statistically below the par of dying from drinking tap water is without logic", said Eric Smith.
Flight Insurance
"Paying an extra $10 for a plane ticket so you can have a few hours of life insurance is roughly the equivalent of paying $2000 a month for accidental death insurance. This insurance product is the lottery ticket of life insurance policies", said Eric Smith.
Mobile Phone Insurance
"Once you pay the $6-$10 per month for coverage for two years and the $50-$100 deductible to replace your phone, which has already depreciated in value significantly, you will have gained essentially no financial benefit and significant extra transactional hassles. You would likely be better of just being ready to purchase a new phone from an online vendor when and if you destroy or lose your phone and keeping a cheap backup phone until then", said Eric Smith.
Extended Warranties on Electronics
"Pay $10 for a warranty against defects on a $30 pair of headphones? I'd rather just pay the $30 to replace them and avoid the paperwork", said Eric Smith
Medical Indemnity Health Insurance Plans
"These health plans are thankfully being eliminated by healthcare reform, but a few of them remain. Essentially they pay a fixed and inadequate benefit for every day an insured is in the hospital, and often little more. The benefit is not adjusted for inflation and in the worst products offer a mere few hundred dollars per day", said Eric Smith.
Readers looking for more information on term or permanent life insurance products are encouraged to visit YourLifeSolution.com, or call Eric Smith at 888.374.2764.