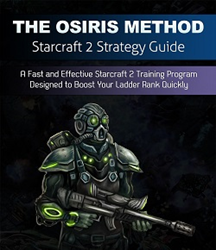 (PRWEB) March 09, 2014
OsirisSC2Guide.com is pleased to announce the publication of a new guide to Zerg army compositions in Starcraft 2. The full new guide can be found in full at http://www.osirissc2guide.com/zerg-army-compositions.html.
The new guide published at OsirisSC2Guide.com details the best army compositions Zerg players can use in Starcraft 2. In Starcraft 2, there are thousands of potential army compositions that players could use in a live game. In practice however, there are less than a dozen viable army compositions in the late-game that have proven effective at the highest levels of competition. In order to limit players to the most effective compositions, the newly published guide details each strong army compositions and provides tips and strategies for using each composition effectively.
The new guide mentions that one of the best compositions a Zerg player can use is the Zergling and Mutalisk combination. According to the guide's creator, Cody Collins, this combination is among the best Zerg army compositions and happens to be effective in all match-ups. Of the two types of resources in Starcraft 2 (minerals and gas), Mutalisks cost primarily rely on gas whereas Zerglings rely exclusively on minerals. The new guide mentions that pairing these two units is a natural choice as each one relies on a different resource type. The guide mentions further mentions that because both of these units are very fast, they work well together. It is difficult to work these units into slower armies as the speed advantage is lost when these fast units are combined with other slower Zerg units.
The new guide cautions players to become comfortable with each of the recommended army compositions listed in the guide as each composition shines at a different aspect of Starcraft 2. Some compositions work particularly well against a single race whereas other compositions are strong on individual maps. According to Collins, learning how to use all of these compositions is key to a player's success on the competitive Starcraft 2 ladder.
About Osiris SC2 Guide
OsirisSC2Guide.com is a leading Starcraft 2 strategy website. Home to over 200 strategy guides and a hundred video walkthroughs, this website is among the most comprehensive resources on Starcraft 2 on the internet. For more information, visit the website at http://www.osirissc2guide.com.
OsirisSC2Guide.com is also home to The Osiris Method, a premium strategy guide designed to help players increase their ladder rankings in Starcraft 2. For more information on The Osiris Method, visit the official page at http://www.osirissc2guide.com/the-osiris-method.html.