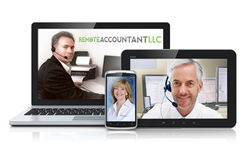 The specialists at Remote Accountant LLC understand that taxpayers work hard for their money, and encourage corporations to file their taxes and request extensions by March 17th.
New York, NY (PRWEB) March 11, 2014
The national accounting, bookkeeping, & tax firm Remote Accountant, LLC prides itself on protecting its client's money. Their mission is to provide outstanding service to individual taxpayers, entrepreneurs, and small business clients; adhering to their three underlying principles of professionalism, responsiveness, and quality. As this year's corporate tax return deadline approaches for C & S corporations it is imperative to secure a financial adviser that stays on top of all federal and local tax changes.
On March 5, 2014 Business Week published "Zen Tips for Tax Time." Business Week reported a survey of 600 small business owners showed that 40% of participants deemed bookkeeping and taxes the most taxing endeavor of the business industry. Over half of those surveyed admitted to using archaic documenting methods including spreadsheets and paper & pencil to monitor company finances; a whopping 40% stated that taxes take an upward of 6 hours to complete. To read more visit businessweek.com/articles/2014-03-05/zen-tips-for-tax-time.
On February 19, 2014 Reuters offered readers an in-depth look at understanding S & C Corporation pros and cons during tax season. Reuters suggests discussing taxation C & S classifications with a qualified accounting professional to yield the greatest tax returns. For more visit reuters.com/article/2014/02/19/idUS244203685720140219.
On March 5, 2014 Entrepreneur published "S-Corps and Tax Advantages: What to Know." Entrepreneur reported that switching to an S Corp. may increase corporate tax returns considerably. Ascribing the monetary gain to S Corporations' internal asset protection, flow-thru taxation, and an avoidance of the ObamaCare tax. Visit entrepreneur.com/video/231928 to read more.
Small business owners and large corporations are urged to comply with taxation stipulations early; on March 6, 2014 Benzinga quoted H&R Block's CEO Bill Cobb attributing delayed IRS e-filing systems to H&R's 1% decrease. H&R has recovered from delaying thousands of refunds in 2013. To read more visit benzinga.com/news/earnings/14/03/4372139/h-r-block-down-slightly-after-unexpectedly-low-q3-results.
Understanding how to garner the greatest return of every tax dollar is a job within itself. Each year rates, incentives, breaks & penalties vary both federally and by state. The specialists at Remote Accountant LLC understand that taxpayers work hard for their money; they encourage corporations to file their taxes, and stress the importance of filing extensions by March 17th. Specializing in advising small businesses, entrepreneurs, and individual taxpayers, Remote Accountant LLC helps to yield every possible tax return, and offer future financial planning to garnish future savings.
The experts at Remote Accountant LLC utilize the newest cutting edge technology, including live video chat & pc to pc logon for automatic updating, so accounting, bookkeeping, and tax filings are streamlined; the national US accounting agency also touts QuickBooks experts. Remote Accountant LLC provides a wide range of services which can be found on their website at http://www.remoteaccountantllc.com or on their firm introduction video.