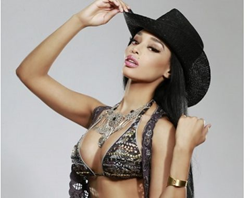 Los Angeles, CA (PRWEB) March 10, 2014
In its 28th year of festival reign, SXSW continues to boast over 100 stages for showcasing over 2,200 regional, national and international bands and independent acts. March 13-15, 2014 from 1 p.m. to 2 a.m., the sultry, Pop Recording Artist Darnaa will host Lot 323, the fifth largest stage at the festival (located at 401 Colorado Avenue & 4th Street), formerly known as the Microsoft venue. 12,000 square feet in size, both air conditioned and heated with two stages, live video streaming, environmental projections and sexy, Starbuzz VIP Hookah Lounge, "Darnaa and Friends" is set to be a festival fan favorite.
When asked about her big splash at SXSW this year Darnaa said, "I performed last year at the Go Girls' Showcase and did some guerilla promotion stuff throughout the weekend near Fader Fort. I had such a great time, this year my management and I decided to host my own tent party to premiere my new "Cowgirl" single and video. We have 45 bands playing over three days coming to represent the tent, along with a handful of extra special friends. The response has been incredible!"
Darnaa, best known for hit singles such as "Runaway", "Calling It Love", "We All Sleep Alone", and "The Moment', has become an instant YouTube sensation. In only a few months and without a record label, Darnaa has already acquired over 270,000 Twitter followers, 2.6 million YouTube video shares, and has been ranked #1 in New York and #4 in the nation as an "Indie Artist" on REVERBNATION. Darnaa is garnering praise for her explosively entertaining performances alongside distinguished artists such as DEV, R Kelly, Travie McCoy, Miguel, T.I., French Montana and SkyBlu (LMFAO), among others. NBA All Star Weekend, headlined by Pharell Williams and Janelle Monae, marked the kick-off of her national 16-city tour, as performed with the internationally acclaimed recording artist Miguel and T.I. She electrified crowds with a teaser of her new single "Cowgirl".
"Darnaa and Friends" will showcase unsigned bands and small labels on their three-day lineup. Thursday will include the Lost Brigade, Parrots, BESTiE, American Cream, Overlake, Gantry, Fritz Montana, Honduras, Boy Blue, Francis, Mutts and Small Circles. Friday's "Bitches Brew" all female line-up will include performances by Miss Shevaughn & Yuma Way, Glass Battles, Ephrata, Memoir Music, Kristen Cothron & the Darkside, Shanica Knowles, Wildfires, Manhands, Trash Pop Icons, Doap Opera, Angela H & Bare Feat and Darnaa to debut her new "Cowgirl" single. Lastly, Saturday will feature the Standards, Foreign Resort, Bourgeois, Marina City, Gogo Morrow, John Flanagan, Bent Knee, Sabi, Hidden Lines and Great Escape.
Each night after songstress Darnaa has taken to her own stages, mega entertainers will pop in for cameo performances. One confirmed big act Darnaa is willing to share, is the Grammy Nominee and Hip Hop Recording Artist B.O.B. More names TBA throughout the week. Once the day parties have shifted into evening parties, Starbuzz EDM "Glow Parties" will transform into turntablism with the Melker Project, Babylon Cartel DJ Expo and Stereo Disco. VIPS will have the opportunity to celebrate Starbuzz style, sampling the hottest flavors in Hookah and Vaporizers in a laser lit lounge.
In pure festival form, "Darnaa and Friends" tent party will exhibit the true nature of independent artists by expanding their listenership and exposing their talents to new fans. Through the blending of mixed, symphonic genres on their stages, Darnaa, LLC is happy to share their gift of music and provide the experience of a lifetime to their guests.
For more information on Darnaa, please contact her publicity team at Jade Umbrella. And to stay up to date on her current tour, follow @DarnaaMusic on Twitter.