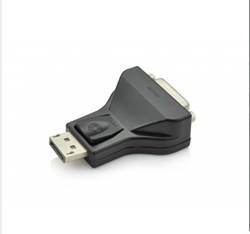 (PRWEB) March 09, 2014
Recently, Hiconn Electronics, the world's leading adapter manufacturer and retailer, has unveiled its new selection of DisplayPort to VGA Adapters. According to the CEO of the company, plenty of company's adapters are popular in the global market. Its international quality standard can ensure that all the new items are of superb quality.
"We are happy to announce our new adapters. They are specially designed for the international consumers who are looking cheap and useful devices. A lot of our items are selling well in the current market, including OTG Cables, MHL to VGA Adapters, MHL to HDMI Adapters, USB HUB & Card Readers for OTG Mobile Phone and so on. We aim to make our website the best platform of high end electronics products," he says.
Here are some details about the DisplayPort to VGA Adapters from Hiconn Electronics:
--Compliant with mini DisplayPort specification 1.1a for both 1.62 Gbps and 2.7 Gbps
--Supports full mini DisplayPort link tracking
--Supports resolutions up to 1920 x 1200 pixels and HDTV resolutions up to 1080p
--Support deep sleep mode (suspend mode)
--Support SVGA, XGA, SXGA, and UXGA at 162 MHz pixel rate
--HDTV: 480i, 576i, 480p, 576p, 1080i and 1080p
The company understands that the demand for high end products is increasingly huge. That is why it took the decision to create the new versions of DisplayPort to VGA Adapters. It hopes to provide worldwide consumers with a truly interactive and convenient purchasing experience.
About Hiconn Electronics
Hiconn Electronics (Shenzhen Hiconn Electronics Co. Ltd.) is devoted to designing and manufacturing a wide range of connection cables and customized cable assemblies, offering many HDMI cables, VGA cables, SATA cables, USB cables, 1394 cables, DVI cables, SCSI (Small Computer System Interface) and more. For more information, please visit http://www.hiconn.net/.
Contact Person: James Yin (Sales Director)
Company Name: Shenzhen Hiconn Electronics Co., Ltd.
Address: Shenghua Building., Xixiang Road., Baoan District, Shenzhen, Guangdong Province, China
Zip Code: 518102
Tel: +86-755-8109 8345
Fax:+86-755-2779 3497